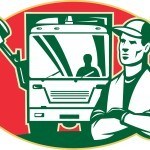 Of all the complaints about Perth Amboy made by residents, the most common is the garbage problem. Even with the new garbage cans, they fill up very fast. Sometimes, when they aren't completely filled, people will put garbage on top of the cans creating a smelly mess.
When the garbage  from Perth Amboy is delivered to the landfill in Edgeboro, the workers at Edgeboro can't believe that this amount of trash is only from Perth Amboy. At a City Council meeting Department of Public Works Director Frank Dann stated, "Sometimes Perth Amboy has more garbage than much larger municipalities in Middlesex County."
Who are these dumping offenders? Some of the "dumpers" are from New York. Some are from other New Jersey towns and some are from Perth Amboy. How many times have I seen residents go to City garbage cans and put their own household garbage in them?
Why do people illegally dump garbage – especially in Perth Amboy? That's the magic question.
1.) One reason is that certain garbage is not accepted by the Department of Public Works. This may cause someone who would dispose of this garbage legally if the option was more readily available to dispose of certain items.
2.) Fines for illegal dumping are not enforced. People believe they can get away with dumping. Sometimes individuals found dumping are given warnings. Some fines are so minuscule that they don't leave a dent in the wallet.
3.) Individuals and some businesses can't be bothered disposing of certain types of garbage legally.
4.) The Department of Public Works is only open for drop-off from 8:30 a.m. to 2 p.m. 5 days a week. The lines are long and often cuts into time that could be spent working.
5.) The illegal housing problem creates a significant amount of trash.
Once I (Carolyn) was in a store in Perth Amboy. I was walking down the end of one aisle looking at paper products on the shelf. A woman on the other side of the aisle started hollering at me in Spanish and gesturing wildly pointing down to the floor. When I looked down I was two feet from stepping into a deposit. I don't know if it was human or animal. I could not believe what I was seeing in an aisle of a store in the middle of the afternoon. You talk about nerve. I pity the person that had to clean that mess up.
I know the feeling because I had to clean up a mess of a deposit made by a dog. I don't even own a dog. It was made in front close to the steps from where I live. Disgusting! I had the most pleasant chore – (NOT!) of doing the honors of cleaning it up.
We have the ambassador program in downtown Perth Amboy where the ambassadors clean the streets and help shoppers unfamiliar with the area. There have been many "City Cleanups." Thank you, Royal Garden Club.
The problem is that it's only treating the symptoms – not the cause.
Possible solutions:
1.) Open the Department of Public Works one Saturday of each month. Accept more variety of garbage to make waste disposal easier.
2.) Inform the public of every possible waste disposal contingency.
3.) There should be a Garbage Patrol – perhaps several members of Code Enforcement, the Department of Public Works and the Police Department. Their only job should be to drive around town from around 6 p.m. to 6 a.m. and patrol for illegal dumping, especially areas which are hotspots or favorites for the "dumpers."
4.) Crackdown on illegal housing. As long as this problem is allowed to exist, Perth Amboy's resources will always be depleted.
5.) Enforcement of laws on the books regarding dumping will make a significant difference.
6.) Install cameras at hotspots.
K.M & C.M.