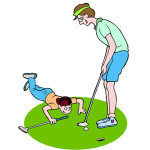 PERTH AMBOY – The Raritan Bay Area YMCA requests the honor of your presence at The Leonard Sendelsky 6th Annual Golf Outing.  As most of you know, Leonard Sendelsky was a staunch supporter of the Y, and he knew that working together for the good of the community was the best way to make headway and help more people! He began this golf event with the intent of getting our supporters together with the purpose of having some fun and of course helping more people!
When someone in our community is in need, where do you think they turn? If they're like most in our community, they come to the Raritan Bay Area YMCA. Why? Because they know they will receive absolute top notch care and service for themselves and their loved ones. They also know that they will be treated like a real person, by dedicated, compassionate professionals in a warm, caring environment.
Your contributions have helped to make the Raritan Bay Area YMCA the leading provider of quality services to our community. We know there is so much more to our Y than one might think. From exercise to education, from volleyball to volunteerism, from preschool to preventative health.  The Y doesn't just strengthen our bodies, it strengthens our community. Fortunately, where some see obstacles, we see opportunities for our members, volunteers, staff and community to make a difference. Together, we will:
· Make a positive impact on the lives of many
· Engage and support families
· Build future leaders through youth programs
· Encourage healthy lifestyles for all
We do hope that you will join us for this year's very special golf outing and/or dinner, as we honor Mr. Sendelsky's life achievements, while at the same time continue his dream of doing more for our community.
Below you will find a brochure with all of the event details and sponsorship information. You may click here www.rbaymca.org to sign up online (click on the golf event button on the homepage and then type in GOLF under programs). We can't wait to celebrate Mr. Sendelsky's life with you!
Can't join us on October 13th? Don't worry, you may still support our cause! Donations in any amount help, just go to the link above and click on the blue "GIVE" button for an easy, secure way to make a donation.
October 13, Metuchen Country Club, 244 Plainfield Rd, Edison, NJ.
Funds to this event enables the Y to assist families with full day pre-school, afterschool supervision, drown-proofing skills and healthy family activities.