Corrects 'grievous errors'
At this juncture, I would be remiss in not commenting on articles appearing in the The Amboy Guardian. I will correct some grievous errors for the public.
June 3, 2015.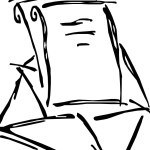 Caption under a photo of Fernando Gonzalez being sworn in.  The Guardian writes, "None of the other council members were present except for council President Lisa Nanton who stood outside in the hall leading into the council chambers."  This is unequivocally false. I introduced the swearing in ceremony at 4:15 from the council president's seat. I invited Fernando Gonzalez and his family and Judge Rodriquez to come forward for the ceremony.  I stood to the side when photographs were taken. This had been an ordeal for Councilman Gonzalez and he deserved this moment. It was not about me, so I stepped to the side. I left the room to get my paperwork for the caucus meeting, which needed to start at 4:30. Why The Guardian would infer –in a caption- that I stood outside in the hallway is beyond my comprehension, especially when the photo clearly shows otherwise.
August 19, 2015
"You Guys are Wrong About This"A very appropriate headline, except that it should be referring to The Guardian.  All your quotes were incorrect. I would suggest you watch the televised meeting before you decide to go to print. First and most importantly, you wrote that "When voting on an ordinance came about, everyone voted yes except for Councilman Irizarry who voted no." This is wrong and it is a crucial error that totally misrepresents the process.
Your article did not explain that this was NOT a vote on hiring a new attorney. It was a vote on whether to add a "late starter" ordinance to the agenda, which would have allowed a vote on the attorney. Councilman Irizarry voted against putting the late starter on the agenda.
A "late starter" cannot be added to the agenda without a unanimous vote of the council. Councilman Gonzalez voted yes and Councilman Irizarry voted no, therefore it was tabled. You claim in your article everyone else voted yes. This is false. No one else on the council voted officially.  Again, it was tabled after Councilman Irizarry's vote.
In this day and age, when we have the council meetings televised and just about everyone has a phone that records; the constant misquotes and misinformation in The Guardian are increasingly disturbing.
Whether it be incompetence, carelessness, haste or intentional deception, the end result is still the same. The public is being deceived.
Lisa Nanton
City Council President