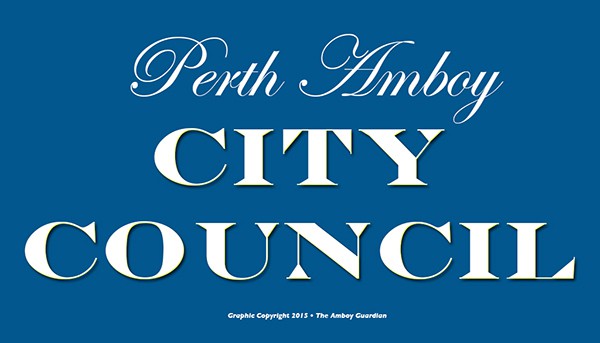 PERTH AMBOY – 1. Appeal Applications – Handicapped Parking: City Clerk Elaine Jasko gave an update to the Council about this matter.
She stated, "A committee consisting of the Police Department, the Parking Utility and myself decided that we were not qualified to make this decision. We're not sure what criteria to use. We don't have the ability to question an applicant's disability. We were all uncomfortable. We can't make this decision. There are 650 handicapped spots. The Police determine if a person can get handicapped spots based on the area where that person lives. I spoke to Arlene (Quinones Perez) about recommendations."
After Jasko spoke, the Law Director responded, "I'm looking at the State and Other Municipality Laws."
Councilman Bill Petrick interjected, "We (the Council) can rescind waivers."
The Council went into Closed Session at 4:15 p.m. and returned at 6:14 p.m.
The next item: Ordinance No. 1 (No Public Discussion): An Ordinance to Amend an Ordinance Entitled, "PAWNBROKERS (Ordinance No. 415 as Amended) adopted October 16, 1899, also known as Chapter 313 ET SEQ of the Code of the City of Perth Amboy.
Business Administrator Peter Pelissier asked for removal of this ordinance because the Police Department needs more time to notify the businesses involved."
After Pelissier spoke one of the Council Members wanted to know if the new ID Program would be incorporated into this ordinance.
Deputy Police Chief Larry Cattano came forward to let them know, "The Businesses involved will adhere to the knew ID Program."
Resolution R-484-11/15 – Approving transfer of CY2015 Budget Appropriations in the amount of $524,738.00.
Chief Financial Officer Jill Goldy came forward with an explanation: "Some of the  money in this account was not needed for the purposes that they were originally targeted for. We would be transferring the funds to the departments that could use them. The workers compensation was one of  them that needed more funds."
Resolution 485-11/15 – Authorizing the Insertion of Revenue in the CY2015 Budget pursuant to N.J.S.A. 40A:4-87 (Chapter 159, P.L. 1948) for a body armor replacement grant in the amount of $10,771.69.
Deputy Chief Cattano said, "This will be for the replacement of 23 vests which must be replaced every 5 years. State and Federal funds will be used."
Resolution 491-11/15 – Authorizing a 4 year contract with Unifirst Manufacturing Corp. for uniform rental and cleaning service for the DPW in the amount not to exceed the sum of $40,000 per year.
CFO Jill Goldy explained, "This will start in 2016 and will be budgeted in the account. Before the employees bought their uniforms, they were given a stipend. Now the  uniforms will all be the same and issued by us."
R-495 – 11/15 Authorizing various professional agreements for legal services to attorneys to have submitted requests for proposals for balance of 2015 and Calendar Year 2016 not to exceed a 12 month contract.
R-501 – 11/15 – Authorizing a professional services contract with Decotiis, Fitzpatrick and Cole to provide legal services for labor and employment, real estate, ABC matters, additional litigation, and extraordinary services for a balance of 2015 and Calendar Year 2016 not to exceed a 12 month contract.
Councilman Fernando Irizarry wanted a clarification of these 2 resolutions citing that there might be a conflict of interest.
Interim Business Administrator Peter Pelissier responded, "R-495 is just a list of the respondents. This is not awarding any contracts. R-501 is awarding a contract from those respondents that are listed in R-495."
During the public portion, the first speaker was Former Councilman Ken Balut. "You (the Council) rebid all these contracts. You named lawyers involved in unfinished projects. They were donating money and coming into the City and involved with corruption. We had a great lawyer here (Mark Blunda). How many cases has she (Quinones Perez) argued in court? We only protect certain employees. Why are we stepping back in time? Blunda (Former Law Director) and Fehrenbach (Former B.A.) sent me all OPRA information  I requested."
Interim Law Director Qinones responded to Balut in reference to the suit filed by the PBA (Police Benevolent Association) against the Mayor. "This information is available in NJLaw.com. We are negotiating this lawsuit and can't discuss it publicly."
Resident Stanley Sierakowski spoke next. He talked about the personal attack on him by the Interim B.A. "He (Pelissier) did not tell the truth  in his apology. He attacked me first. He was not responding to my remarks."
Sierakowski read an article written in 1999 when Pelissier  was the owner of Garden State Kennels where complaints were filed by the SPCA.
Sierakowski spoke about the complaints against Pelissier in the article. Pelissier did not respond.
Resident Russell O'Reilly approved the appointment of Arlene Qininones Perez. "I look at qualifications, work ethic and willingness to serve the people. Through conversations with the Mayor, the person we need for Law Director is sitting there (pointing to Quinones).
Landings Resident Daniel Santo Pietro came forward to give the Council an update on pending lawsuits: "There are 4 litigations going on in the same time. One is a Construction Defects that the Contractor acknowledges. 35 owners have fraud charges against Kushner. There is litigation between the City and Kushner. There are Water mitigation problems. Kushner's lawyers are furious over cases they are losing, but the longer this goes on, the City is losing money."
Pietro asked the Council if they have any further updates. Council President Lisa Nanton responded, "No."
Pietro ended his comments by stating, "It will be a positive step in hiring Qinones. I've known her from working with her in the past."
Resident David Caba spoke about a personal statement that Interim B.A. Peter Pelissier made at the 10/26/15 Meeting. "I never knew Stanley (Sierakowski) lived with his mother and I've been here 35 years. How did he (Pelissier) know in 5 weeks about Stanley's living conditions? Is there a spy in here? Keep your friends close, but your enemies closer. I've given people credit when it's due. The B.A. apologized, but he should apologize to everyone. Mr. Irizarry is right. Everyone looks at both sides."
Police Chaplain Gregory Pabon agreed with Russell O'Reilly, "He told the truth. We should move on. People will knock down all the Mayor's Appointees."
A Waterfront Resident thanked the Council for standing up for their beliefs and principals.
Resident Alan Silber took Councilman Fernando Gonzalez to task, "You (Gonzalez) stated that you wanted to get to the bottom of Mark Blunda (Former Law Director) being let go. Why fire someone after 7 years? Blunda would never make statements about why people who come here to speak don't go to City events. Mr. Blunda wasn't political enough. I go to events."
With that, Silber showed himself in a photo paying his taxes. "Not the B.A. who lives in Montana or the Interim Law Director who lives in another town."