PERTH AMBOY – This will probably be the only time that I address the public regarding myself since I rarely speak about myself or my accomplishments, but because I have sat here since September 1st and my record has been distorted by many in this room I want to be very clear about what my record is and because a number of the individuals that have spoken to my record have left I want to make sure that my statements are videotaped so the record is clear.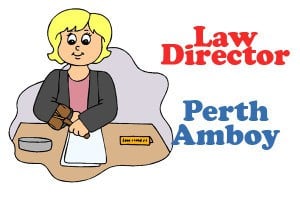 There have been many things said about me and it is unfortunate – my home has been discussed, the value of my home, my credentials have been discussed, some have said my inexperience – what I can assure you and everyone in this room and to the residents of the City of Perth Amboy is that I am very qualified to sit as the attorney for the City of Perth Amboy.
I will go through a little bit of my background, and I would ask that you indulge me because I have sat here since September 1st and not once have I spoken to my credentials.
I served for over 5 ½ years in State government at the highest levels, I have worked for three different governors and each one of them would speak to my reputation and ability to handle any job in State government.
I will now speak to my legal abilities, which is what is in question here. I have been practicing law for close to 7 years. I have been practicing in many different capacities – labor and employment, specifically for the last 4 ½ years as well as municipal law. I have worked and have held prestige positions with the federal government working as a law clerk. That is a position that I am extremely proud of and not one that many attorneys get to serve in. Not only on the Federal level but also at the State level. What I can assure you is that both of those individuals have written recommendation letters to this Council and to the City of Perth Amboy outlining my credentials and my ability to serve as an attorney for the City of Perth Amboy.
I have also served with Kroll Heineman & Carton, as an associate where I handled litigation matters as well as collective bargaining agreements. I can assure you that Al Kroll who is the founder of that same firm also wrote a letter of recommendation to my legal abilities to serve as an attorney for the City of Perth Amboy.
I served as in-house Counsel to the Northeast Regional Council of Carpenters. A position that I received after working as outside counsel to them on open litigation matters. They were impressed by my abilities to handle matters and asked me to come in and development their legal department. The Northeast Regional Council of Carpenters represents over 30,000 members and crosses two states – New York and New Jersey and I am licensed in both as well the United States Federal District Court. Next year I will be admitted to practice before the United States Supreme Court and be sworn in by a United States Supreme Court Justice.
Through my opportunity to work at the Northeast Regional Council of Carpenters as in-house counsel I handled every legal matter that came into the organization. The organization has over 151 employees and I represented every single one of them.
In my career I have made very, very specific choices about where I practice because my reputation is something that I value greatly and significantly and it means a lot in the world that we are in, which is one of the reasons that I have stood by and allowed people to come up here because they do not know me – none of them do, but I can assure you is that not one person in this room has placed a phone call to any of the fifteen letters of recommendations that I submitted. Not one phone call has been made to the Federal District Judge or to the Assignment Judge. There is one individual that did place those calls and he has come around to be very supportive.
And that's a shame because any one of those phone calls could have told you exactly who I am and what I do and my legal abilities. The other part that I can assure you is that there has been discussion about my ability to litigate matters and I can assure you from the letters of recommendation that have come in that I can litigate a matter in Court and I have done so in the past. I am proud to say that I have never had to take a client to trial. Trial to me is a position of weakness and not a position that I advocate for any of my clients because rarely does it get you to the goal that you want.
That being said, in the positions that I have held and here is what I can tell you about my community activism and my involvement in the legal community. I have been a part of the Hispanic Bar Association of New Jersey for close to 7 years and I am now president-elect of the organization and we present close to 1,000 attorneys in this State. What was frustrating sitting through this process was that the individuals that came to this microphone and spoke on behalf of my legal abilities and who actually worked with me and know my abilities as an attorney were discredited and that is unfortunate because they are accomplished attorneys in their own right.
What I will also tell you is that I am a member of the New Jersey State Bar Association and I have held leadership positions in that organization as well. What I can assure you is that organization represents over 20,000 attorneys so rarely do I need call anyone else to ask for information about where I can send a case or an attorney that I can send it to. I have those abilities and those connections on my own.
Every single one of the steps I have taken in my professional career have been very specific and what I can assure you is that I stand very proudly as a Partner with DeCotiis, Fitzpatrick & Cole, LLP , and that will never change. They are one of the most ethical law firms and best municipal law firms in this State. They represent the Attorney General's Office as well as the State of New Jersey. They have gone through check after check after check in terms of what their substantive ability is. They represent over 200 municipalities across this State. Every single letter of recommendation that I have put in to the Council and to the City of Perth Amboy is to assure all of you that I am qualified to sit here as an attorney as well as to DeCotiis, Fitzpatrick & Cole, LLP.
I hope that anyone that has question in terms of my qualifications or that of the firm that I proudly represent come see me in my office, my door has been open since the moment that I came to the City of Perth Amboy. But not one individual has come to see me in my office to discuss any matter at all. Feel free – my door is open every single day. My cell phone is available to everyone.
I have sat here for close to 70 days and not one question has come to me that I have been unable to answer. So I really look forward to serving with this Council, serving as an attorney for this Council and I will proudly do so. And I will proudly serve the City of Perth Amboy. And proudly serve the Mayor of this City.
The other issue that I would caution the Council about is that since September 1st never once have I received a RICE Notice as a City employee that my employment with the City would be discussed. Not once. Not once has Peter Pelissier received a RICE Notice that his employment with the City would be discussed. Please consider that going forward. We do not want to expose the City to any liability and I certainly would not to.
What I can also tell you is that Peter Pelissier is one of the most amazing people that I have been fortunate enough to work within the last month that he has been here and I am truly, truly honored and happy to serve with him.
Thank you for your service to this Country Peter and I look forward to hearing your speech on Wednesday. And I look forward to seeing everyone on Wednesday and thank you again for allowing me an opportunity to serve the City of Perth Amboy.