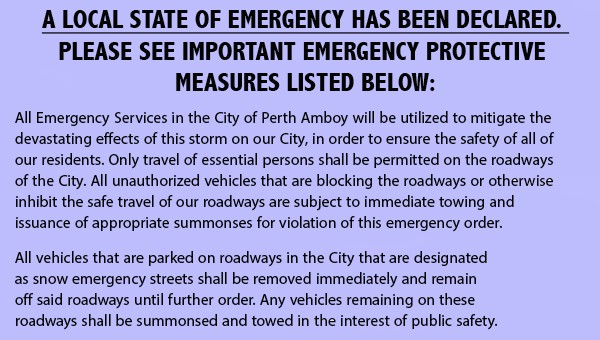 FROM THE PERTH AMBOY OFFICE OF EMERGENCY MANAGEMENT:
Advisory: A LOCAL STATE OF EMERGENCY HAS BEEN DECLARED. PLEASE SEE IMPORTANT EMERGENCY PROTECTIVE MEASURES LISTED BELOW.
EMERGENCY PROTECTIVE MEASURES:
All Emergency Services in the City of Perth Amboy will be utilized to mitigate the devastating effects of this storm on our City, in order to ensure the safety of all of our residents. Only travel of essential persons shall be permitted on the roadways of the City. All unauthorized vehicles that are blocking the roadways or otherwise inhibit the safe travel of our roadways are subject to immediate towing and issuance of appropriate summonses for violation of this emergency order.
All vehicles that are parked on roadways in the City that are designated as snow emergency streets shall be removed immediately and remain off said roadways until further order. Any vehicles remaining on these roadways shall be summonsed and towed in the interest of public safety.
For full details, view this message on the web.