2/22/16 Caucus & 2/24/16 Council Meeting
PERTH AMBOY – At the beginning of the 2/22/16 Caucus, Charles Ferraioli Jr., City Auditor from the Audit Firm of Ferraioli, Weilkotz, Cerullo and Cuva, P.A. came forward to speak about his firm, the City's finances and some of the ordinances and resolutions. "Our firm which is over 60 years old was appointed as an auditor for the city in 2009. We work with the Mayor and Council. We do audits on several municipalities and their entities, such as a City's library. At that time, the City was $242 million in debt. There was $100 million in bonds not on the books. The City's debt is now $206 million and they are not relying on extraordinary aid. Under the Faulkner Act, salaries are by ordinances or resolutions."
This prompted Councilman Fernando Gonzalez to ask a question, "If an ordinance is passed that has a salary range and someone gets appointed outside that range, even though it's not required. We don't want anyone to go beyond that range."
Ferraioli answered Gonzalez, "We need memos, an ordinance or a resolution to back up what you (the Council) are saying."
Councilman Bill Petrick wondered, "How can we as a body have control over an ordinance?"
Public Comments: Former Councilman Ken Balut still had comments to make about the first female Hispanic Police Officer who was finally promoted to and became a Sergeant. He was not happy that some people who should have been notified about this promotion were left out. He felt that the Mayor violated civil service rules. "She (Mayor Diaz) touted the new Law Director coming in." He also made reference to the City Auditor from the firm of Ferraioli, Weilkotz, Cerullo and Cuva, P.A. who made a presentation earlier in the meeting. "This firm has been employed by the City for a good number of years. I notice that Ferraioli mentioned that his firm has a clean record." Balut asked the Council if they knew how often the City is supposed to change auditors? We have unfair labor practices for Veterans (active officers who are on leave for military service). Former Mayor Joe Vas started the transit village. There's another Hispanic Officer that should be made whole and given a promotion."
Resident David Caba directed a question at Councilman Joel Pabon, "Why would you vote for an ordinance you thought was illegal?" Then making a reference to a past statement by Councilman Irizarry, Caba said, "I keep repeating myself because you guys are doing nothing." The he addressed Councilmen Pabon and Petrick and said, "I respected that you both admitted that you didn't know all who contributed to your campaign in 2014. Bernie Sanders got arrested for fighting for the rights of African-Americans. Are you representing the people or the big bosses?"
Resident Alan Silber spoke next. He first welcomed Adam Cruz, the new Business Administrator and told him, "Enjoy your time here." Silber continued, "When I asked the Council if you (Cruz) ever served as a Business Administrator before, the Council did not answer. I believe ordinances are drawn up by the Law Director. The Council allowed the Interim B.A. (Peter Pelissier) to be here weeks past his contract allowed. Before you (the Council) signs an ordinance, you should make sure it's legal. There's nothing wrong with the ordinance except the question of the salary, which was stated for the Interim B.A. Where did they get the extra money to keep his original salary when he became the Assistant B.A.? (As Interim  B.A. he was paid a salary of $157,000. When he was reassigned by the Mayor as Assistant B.A. his salary remained the same instead of being reduced to $106,000 for the Assistant title.) The City Council should have brought a lawsuit."
Councilman Joel Pabon was the first one to address the statements made by the public in regards to Pelissier. "We are not experts. I base my opinion on what was explained via the Faulkner Act. I am looking for clarity. Do we need to be more specific in our ordinances? We make mistakes. Was it right? Was it wrong? The Faulkner Act sets the pay guidelines for Directors." Then addressing Caba's statements, Pabon said, "I don't know who the big bosses are. As far as the Police Officer who was promoted to Sergeant – she's a beautiful person and I'm very happy for her. I know what she's going through."
Councilman Fernando Gonzalez made remarks next. He did not hold back on his feelings about Assistant B.A. Pelissier. "He (Pelissier) was extremely disrespectful to me. He (Pelissier) at a previous meeting said he was going to prepare a report and give it to everyone and then he addressed me and said, "But not you," and nodded his head towards me. People only say things when it's to their benefit. We were not required to pass resolutions of those personnel in the Faulkner Act. Can the City get an Attorney to get back the difference of the money that we paid the former B.A. (Pelissier) and give what is owed to the Citizens of Perth Amboy?"
Law Director Arlene Quinones-Perez answered the last statement from Gonzalez, "I am the City Attorney and the Mayor has to make that decision."
Council President Lisa Nanton agreed with Fernando Gonzalez and said, "We need to have an independent Attorney to address the salary that Pelissier received after he became the Assistant B.A."
Councilman Fernando Irizarry was absent from the Caucus due to another commitment.
During the public portion of the 2/24/16 Council Meeting, Ken Balut was still fired up by the unfair labor practices for the Police serving in the military. "The City should be changing our auditors every five years." At that point, Balut had a copy of the recommendations by the State of New Jersey for all government units that are required to have auditors. In that communication, the State recommended that there be a competitive selection process for choosing an auditor at a minimum of every five years. Another recommendation was that in no event should a government unit use the same audit firm for more than ten years. The State recommended that the Legislature consider an acting legislation that would impose this ten year time limit. Balut continued, "You (the City) would have more money for more important things if you paid accordingly. We lost accreditation. There are more lawsuits and you should be reading them all. The YMCA got over a million dollars from the Board of Education, but that's not in the audit. We're having a party for the last Business Administrator (Pelissier). You (the Council) are supposed to be transparent. A lot of citizens are not getting help with OPRA's. You have to take control if you're not getting the information."
Alan Silber questioned why the Auditor was at the Caucus Meeting. "If we (the public) can find out information, why can't you (the Council)? The City Council of Orange originated a lawsuit to get money back from their former Deputy Business Administrator. You should have been questioning Pelissier. I asked for information on him. You said he was on salary when he was on vacation. This was a willful and unlawful act by the Mayor." At that point, Silber was so annoyed that he started to pound his fist on the wooden partition in front of him causing some of the paperwork he placed there to fall on the side of the Council's chambers. As the papers fell, he said, "These actions are outrageous and egregious! The City of Orange took action!" He also wondered who the anonymous donor was paying for the luncheon for Pelissier.
Businesswoman Virginia Lugo came up to speak. She told the Council that they received a lot of information from us (the public). She also made reference to the Mayor backdating memos. "If this Lawyer (Arlene Quinones-Perez) had municipal experience, she should have known this was not correct. We need an outside counsel and another firm."
Story continues below.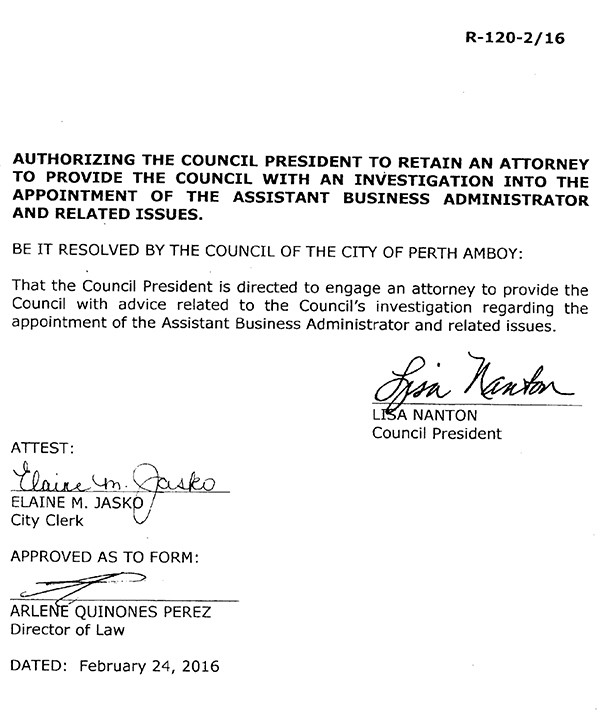 Resident David Caba moved quickly to come up to the podium to speak, "I don't know what legal opinion she's (Arlene Quinones-Perez) is giving, but now we're in a mess. You should impeach her. I live in the City of Perth Amboy and I need someone to look out for us. I don't see Pelissier here tonight to help train the new Business Administrator. I made a bad decision supporting someone who ran for Mayor in 2012. The good thing is that he did not win."
Resident Susan Batista came up to the podium, "What did Pelissier do when he was acting Mayor? Did he change any ordinances or write any up?"
Councilman Bill Petrick answered Batista, "Ordinances must be voted upon by the Council."
Council President Lisa Nanton said, "We get information by the Law Director and Business Administrator. I assume he did the same responsibilities as he did as Business Administrator."
Batista shot back, "There is money being spent and no one knows where it went to. I don't know if they told you anything about it. This is a federal crime. If you participate in cover-ups, then you're an accessory. They are doing everything low-handed."
During the Council comments, Fernando Gonzalez did a complete turnaround from his initial impressions of Quinones. He stated, "I have lost confidence in our Lawyer. I called the State Comptroller about this. (Pelissier's salary/appointment/title change). They said they're already investigating. I also called the Department of Community Affairs." Gonzalez wanted to know if the City owed Pelissier any more monies.
Business Administrator Adam Cruz confirmed that Pelissier does have more money coming to him.
Gonzalez continued, "We should pass a resolution to stop payment to Pelissier until we get a legal determination."
Judy Verrone, who is a Partner in the Teaneck New Jersey Office of DeCotiis was at the Council Meeting in place of Arlene Qinones-Perez. Verrone read a passage from the Faulkner Act: "The Mayor has the authority to set salaries for subordinates (administrative salaries) as long as funds are available in the budget."
Gonzalez didn't give up his argument and said, "We are not getting proper legal advice and the Council needs its own separate attorney."
Council President Lisa Nanton agreed again with Councilman Fernando Gonzalez, "The Attorney should have told us about the salary guide change. We need to have an independent advisor."
Councilman Fernando Gonzalez made a motion to have a resolution drawn up for an independent counsel and Bill Petrick seconded it.
Verrone left the Council Chambers to draw up the resolution. After a few minutes, she came back to present the resolution to the Council. It was moved by Petrick and seconded by Irizarry.
Councilman Joel Pabon and Law Director Arlene Quinones-Perez was absent from the Meeting.