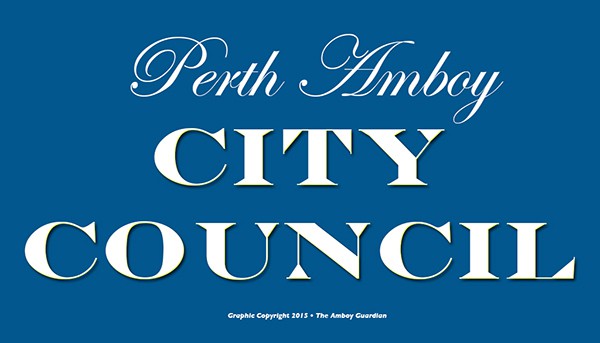 SEE ACCOMPANYING DOCUMENTS LOWER IN THIS ARTICLE
3/9/16 Council Meeting
PERTH AMBOY – Public Portion Agenda Items: Stanley Sierakowski addressed the Council about Resolution R-145 (See Pg. 1) "The Law Director said this is transferable to her."
Law Director Quinones responded, "I'll confirm that."
Resident Ken Balut was concerned not only about the amount of money for the Law Director, but how much they charge per hour. "When I put in an OPRA request, there was a $120 bill for the research for it. She has billed for every meeting she has with any Council Member excluding the Caucus/Council Meetings. She's your (the Council) attorney, too. She should not be charging when she's having any outside meetings with the Council Members."
Business Administrator Adam Cruz wanted those in attendance to know, "We are on the phones (himself and also the Law Director) Saturdays and Sundays and we are available 24 hrs.
Perth Amboy Democratic Chair Billy Delgado came up to speak. "This is an advice and consent agenda. We have a lot of matters to address instead of worrying about $7000. People who talk about Resolution R-145 have no idea what is required of a legal department. If we don't approve this resolution, we may have to pay up to $1 million for other legal representation.  I have reached out to other Directors and people who have dealt with Law Director Quinones and they all have positive things to say about her. I think this is just plain harassment of this woman."
Councilman Irizarry said, "The Law Director is not supposed to contact the Directors. Only the B.A. is supposed to do this."
The new Library Director Eleni Glykis said, "Arlene the Law Director is my favorite person. Her large law firm has the capacity to handle what we need done for the library. They could look up information that we need very easily." She asked that the Council pass Resolution R-145.
Resident Dorothy Daniel had an issue to address about the so called overpayment of the Business Administrator. Daniel said, "I've sat on many Boards and structure is very important. Do you have a copy of the municipal code City Clerk Elaine Jasko and CFO Jill Goldy are very brilliant and they should be in the private sessions, too and have copies of municipal code. Did anybody ask this person (Pelissier) for money back?"
The Council members shook their heads "No."
Daniel concluded with, "The CFO, City Clerk and Auditor should know if someone is overpaid."
Resident Alan Silber came up to speak. He said, "It was not $7000, but $26,000 that Pelissier owes back. He was not an employee after January 25, 2016. A letter was presented on January 27, 2016 that was backdated January 26, 2016. It came from the Mayor appointing Pelissier Assistant B.A. The Law Director is supposed to work for the Mayor and the Council. Every E-mail the Law Director sends or responds to she bills the City. I want Mr. Cruz (the new B.A.) to realize that he shouldn't be a mouthpiece and should do his homework."
Resident Reinaldo Aviles said, "We needed legal advice and Mrs. Quinones has done a lot for us. Continuity is very important. In Resolution R-145 is there anything specific that you are questioning here?"
Another Resident, Junior Iglesia came up to speak, "I'm not an expert on municipal law, but I would ask the Council to approve R-145. Our Law Director is capable and knowledgeable about all that was given to her."
Hector Palidura from DPW told the Council, "You are professionals. I never knew Ms. Perez before, but she's also professional and handles matters quickly. If you can't give respect – you won't get it. Perhaps Mr. Gonzalez should switch places and handle the Meetings. People come up here and speak without presenting facts. There are now good and positive responses between the City and the Law Director. It was like a circus on Monday (at the Caucus Meeting)."
He then addressed Council President, Nanton, "You have the power to put a stop to it."
Resident David Caba spoke next. "You don't work for the administration but with the administration. You guys are supposed to look out for the taxpayers. 65,000 people think that something's wrong. You (the Council) put us in this predicament. This should never be here if you did your homework."
Library Business Manager Herschel Chomsky praised Arlene Quinones. "I've worked for the City for many years. Our previous Library Director would come here to speak on behalf of her employees and afterwards she would sometimes was reprimanded for doing so. Now, we are not afraid to speak up. "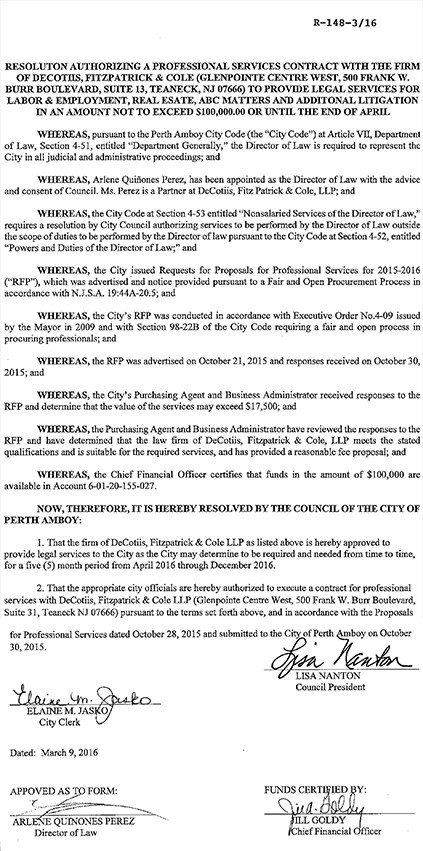 A Supervisor from Code Enforcement came up to speak. "We've had a big turnover in law enforcement. For every question I asked of the Law Director, she contacts the correct Department for answers"
He then addressed Council President Nanton, "Lisa, I know you always go with your heart. Mr. Blunda was a gentleman's gentleman. Quinones could walk on water and not get respect. Is there a price comparison between Blunda's firm and Quinones' salary? Quinones is forever getting blasted. She is part of our team and we want her to come back."
DPW Director Frank Hoffman echoed the same sentiments, "Quinones makes herself available to us all the time and is our biggest cheerleader."
Mayor Wilda Diaz came up to speak about Resolution R-145. "We have professionals looking at our litigations. It would be a great disservice to have someone who is new start from scratch. I got a legal opinion. We need to have a transition. A search takes over 90 days. Let's stand together and move together to move the City forward. On Resolution R-146 I disagree with the Resolution. We need to work with professionals that we have now. Maybe you want us to fail. Arlene knows the intricacies and the employees of the City. She's apologized to you, but she should be apologized to. Let's work with Arlene. I'm coming in with a zero tax increase. People sit back here and disrespect me when I'm speaking."
Irivng Lozada who is the Mayor's Aide came up and said, "I am speaking from my heart. The Law Director told me that she wanted to meet the residents of the City." Lozada wondered, "Where are we getting the money ($20,000) to pay for independent counsel for the Council."
Council President Lisa Nanton responded, "It can be in the Council or the Law Director's budget."
Lozada responded back, "You guys should pay for it."
Lawyer Daniel Gonzalez said, "It will cost a lot of money to do this job no matter what." Gonzalez spoke about a lot of disrespect on both sides, "We should just focus on the betterment of the community. Check to see what the City paid other law firms in the past and also check what other cities pay. We don't have to accept this contract, now. We can give it a few more months. Ms. Quinones is a smart young lady. I have a law degree, but the big firms have a more detailed list of their bills. This should be a compromise. Let Arlene stay here a little longer. Let's scrutinize her more."
Law Director Quinones came up to speak, "I'm proud of the work I've done under my contract. Obnoxious and absurd comments have been made. Ms. Nanton, you had no issues with the DeCotiis Firm or I get 45 e-mails a day from City Employees and from the five City Directors. I don't bill for a lot of them. I work and take calls 7 days a week. I practice in courts in New York, New Jersey and in Federal Court. I'm going to be able to practice in front of the Supreme Court. Right now, we are discussing a lot of litigations and contract negotiations. I called Bill Kearns from the League of Municipalities and asked him if the Council could have their own attorney. He said, "No." Mark Blunda's firm charged $500,000 to $600,000 a year. I am well within my legal budget. Let's discuss the bills in public. 80% of the bills are mine, but you don't see a lot of the bills on here with conversations I've had. If Resolution R-145 is not passed, it will cost the City."
When it came to voting on resolutions. On R-145 – 3/16 The vote was as follows: Fernando Gonzalez, Fernando Irizarry, Bill Petrick and Council President Lisa Nanton voted "No." Councilman Joel Pabon voted "Yes." Resolution R-145 – 3/16 did not pass.
This caused an outrage at the Council Meeting with several City Employees and Residents for and against this decision.    The following is a synopsis of some of those comments:
Resident Ken Balut said, "I am questioning the law firm – not the lawyer. Civil service lawsuits are being violated which are very serious. The Mayor should ask for part of Pelissier's pay back. In the long run, pensions will spring up after 4 years. Look to see who is getting raises."
Resident Stanley Sierakowski said, "Besides their salaries, look at expense accounts. The Mayor went over the stature of New Jersey with appointments. Pelissier was not an employee when he was appointed Assistant B.A. $275,000 is for routine stuff."
Sierakowski's prompted Law Director Arlene Quinones to answer back. Addressing Council President Lisa Nanton, Quinones stated, "Those remarks are slanderous to me. You, the Council President should abide by your own rules and not allow slanderous remarks about me."
Resident Alan Silber said, "A City Employee to came up to ask where the $20,000 came from to hire an independent lawyer for the Council. He should have asked instead,  "Where did the money come from to hire a Chief of Staff?" You never had that position before."
Resident Virginia Lugo told the Council to review tapes from previous meetings about Pelissier's appointment and about the ordinance you signed off on December 9, 2015. You have a right to question any decision you made and get an independent lawyer."
Quinones spoke again, this time about all the organizations and titles she has had over her career. "I will stand by all women and also with this Mayor. I have pride walking the streets and people say they are proud that I am their Law Director. It's amazing that you continually let your Citizens berate me, I would never allow this. I have been mentioned as a possible candidate for Lt. Governor. I've helped many women, especially Latinas get elected. You, the Council have wasted a significant amount of time and money."
Resident Reinaldo Aviles came up to speak, "A lot of things happened tonight that was awful. Why didn't you approach Ms. Perez about the bills before tonight. She asked you publicly if you wanted to go over highlighted items on the bill, but you never did. The most corrupt lawyer the City ever had – his bills were never questioned. You should have the item that was billed that you questioned. It should have been done so in public."
Perth Amboy Democratic Chair Billy Delgado told the Council, "You withdrew your confidence in the Law Director tonight. Professionals out of respect should discuss some issues in private. The elections began tonight. If you want to take her out (remove Quinones) you should run for Mayor. You are not showing the Law Director professionalism or respect. I'm very disappointed in my Council Members."
The Mayor's daughter, Samantha Diaz came up to speak. She was very emotional, "I am here as a young Latina Professional who lives here." Looking at Arlene, she said, "I aspire to be half the Professional that you are." Turning her attention to the Council, she said, "This a dereliction of  your duties, what you did here tonight." Addressing Joel Pabon, Ms. Diaz said, "You demonstrated your ability to work with the Law Director."
Mayor Diaz came up to speak, "You (some of the Council Members) had it out from day one for Arlene. I know you had political meetings. You took recommendations from Pelissier when you said he was not an employee. I'm shocked that the Council Members did not call the League of Municipalities. Arlene is a true professional. I'm going to take an oath and tell the truth. Councilman Gonzalez – did you set Arlene up to fail? Now we are back ten steps. Then you'll wonder about litigation."
Mayor's Chief of Staff Lissette  Martinez had scorching words for the Council. "You should take training. You don't know what you're doing. Lisa, you took advice from an audience member. I know you (the Council) talk about me in closed sessions. I get slandered all the time and you didn't care." Addressing Arlene Quinones, she said, "I'm so sorry and I want to thank you."
Jeanette Rios in charge of the Parking Utility said, "I'm coming up to speak as a Resident, Business Owner and Employee. What happened tonight should have never happened."
Herschel Chomsky said, "A decision was made before an investigation was made."
Mayor's Aide Irving Lozada said, "This was a political move. Councilman Joel Pabon made the right decision. Mrs. Nanton, I hope you are not running for Mayor. How can we move the City forward if we're going in different directions. There's no communications between the Mayor and Council as there were before. People said Vitale was running the City, but you guys are letting people run you. The Mayor stood up to Vitale."
DPW Employee Hector Palidura said, "We go through a change of command before talking to the Law Director. We are the first responders to clear streets so others can get down those streets. I know who is running for Mayor here, because I get calls from you. It's embarrassing what happened tonight. I want to thank you, Arlene. You have my number in case you want to get in touch with me."
Library Director Eleni Glykis said, "From the outside Perth Amboy is looked on as hoodlums. The way you voted is going to cost us money."
Resident Dot Daniel said, "I know what Arlene is going through, because I have been disparaged and lied about constantly, especially from 3 people. It stopped after Councilman Irizarry asked me a series of questions which I answered. There's no way someone would walk through their doors at our Housing Commission Meetings an disrespect my members this way.
Council Comments:
J. Pabon said, "I don't care about elections and I respect my Council's votes. I voted for Arlene and depended for our advice as our Lawyer. I wasn't here on 3/7/16 and I don't care what was said. When residents call me about a problem, I call whatever Director that can handle it. It's our obligation to keep the City moving until the November Elections. If I were her, I think I would have left already. If you guys want her removed, then you should get together to have her removed."
Law Director Quinones wanted to know what she should do about pending litigation. She rattled off some of the cases she was working on. The first one she mentioned was the Board of Education case.
Council President Lisa Nanton said, "We can have the Attorney pass a resolution for that case and others that may be of immediate importance. I also called Kearns from the League of Municipalities and he said I will have to get advice from the Law Director. We should have a special meeting to appoint another firm. We agreed with recommendations of B.A. Cruz."
Arlene Quinones added, "I cannot handle all the pending litigations. Which ones do you want me to handle?"
When Quinones was rattling off a list of what was on her plate (cases), she was interrupted by Business Administrator Adam Cruz. "You should do a blanket resolution. This is a very serious matter. It's a deadlock. Our CFO Jill Goldy just informed me that we need a certification of funding."
CFO Jill Goldy told the Council, "I don't know what it's going to cost to resolve these matters."
Council President Lisa Nanton spoke up and said, "Let's put a cap of $100,000 until the end of April."
Councilman Fernando Gonzalez commented, "I voted for Arlene as Law Director initially. I was a little concerned about the billing. I don't want another law firm. We spent $70,000 to hire an attorney and wanted to know  what we would be getting. We should have a full time attorney. We had it under Vas. At this time I'm not ready to add an additional $270,000."