Girl Scouts and Royal Rangers to Engage in Community Project
PERTH AMBOY – The Girl Scout Cadet Troop #81456 is finalizing their plans for a Girl Scout Colonial Garden for their Silver Award Project. There are three girls who are completing their silver project. The Silver Award is the second highest award in Girl Scouting (for ages 12yrs. to 15 yrs.). Girl Scouting is about helping the community through service projects and community service in any way possible. It builds girls of courage, confidence, and character, who make the world a better place. The organization offers every girl a chance to do something amazing. Girl Scout Troops ranging from Daisies to Cadets meet on Fridays from 6 p.m. to 8 p.m. at the Edward J. Patten School, 500 Charles St., Perth Amboy, NJ under Scout Leader Ms. Delores R.
The Girl Scouts will be planting a garden in the rear of the Kearny Cottage and the center of the garden will consist of a spiral herb garden. These herbs will be grown then harvested and donated to local food pantries. The three Girl Scouts who are participating in this project enjoy gardening and are creating this garden to both beautify and feed the community. Along with the Royal Garden Club, the Girl Scouts will help maintain the garden.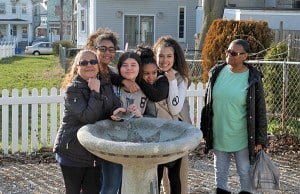 The Girl Scouts will work along with the Royal Rangers Outpost #51 will be rebuilding a walkway at the house, making a difference in their community.
Royal Rangers Outpost 51 is a national Christian organization that works to provide Christ-like character formation and servant leadership development for boys and young men in a highly relational and fun environment. The group works with ages 5 to 18 years old. The group's core principles are evangelism, discipleship, leadership, achievement and service. Royal Rangers is held on Wednesdays at 7:30 p.m. by Mario Jaramillo, coordinator along with other commanders including Vida Church, 189 Fayette Street, Perth Amboy, NJ.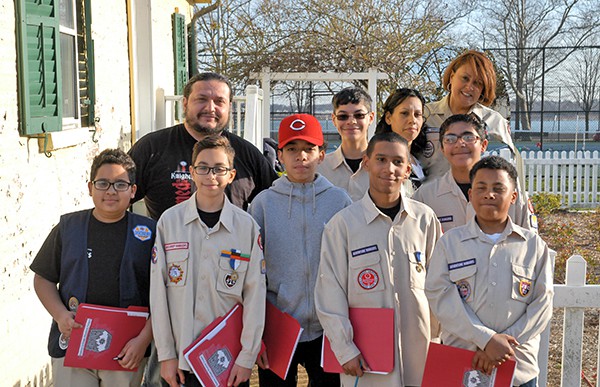 The Royal Rangers are excited to partner with the Kearny Cottage Museum Project, which our Rangers will be responsible for building the "Royal Rangers Walkway Path." Our boys and young men will be working on obtaining their annual awards and merits — such as the American History, Citizenship, Garden and Community Service – which will bring them closer to the Gold Medal of Achievement (GMA Award), which is nationally acknowledged. They are honored to be part of this historical moment and with your help they will be able to achieve their merits. In fact, it will help their future growth and understanding of the community. They will learn how to fellowship and develop their discipleship skills.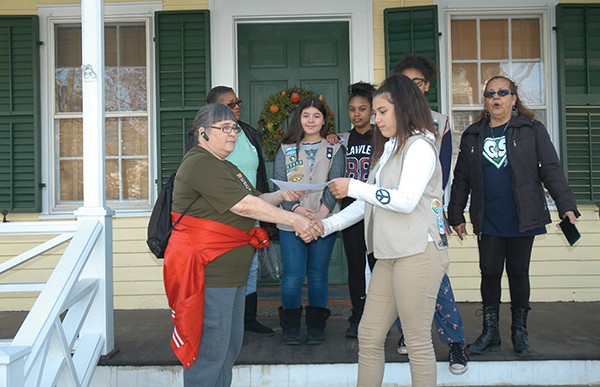 The Rangers are ready to serve their community. They will be supervised by Site Manager Paul Wang, President and Docent of the Kearny Cottage Historical Association, along with other commanders. Johanna Figueroa, Committee member of Outpost 51 who received a check from "The Eddie and Brenda Trujillo Family Foundation" to commence the project this spring of 2016 so the historical museum will be updated and ready to receive visitors, especially from the other children of our community.