This slideshow requires JavaScript.
3/24/16      *Photos by Carolyn Maxwell
PERTH AMBOY – On 3/24/16 the Anthony V. Ceres Elementary School was presented with a VIP (Very Impressive Produce) Award by the NJ Department of Agricultural Food and Nutrition Division Director Rose Tricario. Also in attendance was Tricario, Janet Celi who is the NJDA Fresh Fruit and Vegetable Coordinator.
The Ceres School Health Teacher Linda Kovalsky, who is also the FFVP (Fresh Fruit, Vegetable and Produce) and the Fourth Grade Students in the School Garden Club were all smiles when they were presented with this prestigious award. School Principal Michelle Velez-Jonte and Mayor Wilda Diaz (who was sent a special invitation) and some school administrators were also in attendance.
The Students at the Ceres School are treated to a variety of fresh fruits and vegetables every day. Much of the produce that the students are able to experience come from a variety of countries. Because of the Students having the opportunity to experience something new and at the same time nutritious; they now encourage their parents to do the same. The Students in the Garden Club take pride in being able to grow vegetables from seeds. There are 72 different fruits and vegetables that they are able to experience. 720 students are served weekly.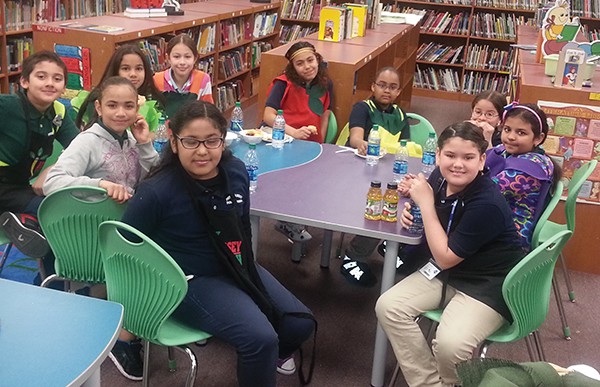 We also visited the classroom of Ms. Shannon McCabe where one of her students enthusiastically handed out the fruit of the day to her fellow classmates. Those students enthusiastically told us about some of their new favorite fruits. One of the unique fruits the students love is the Vietnam Dragon Fruit. A healthy breakfast for all to enjoy after the presentation included raspberry and blueberry muffins, pears, bagels, mixed fruit, apple juice, water, coffee and tea. For more information about this program, visit the Perth Amboy Public Schools website and click onto the Ceres School.