I Always Have The Last Laugh
April Fools Day was Friday, April 1st. We backtracked to see the weather report from the period of April 1st to April 8th. The temperature was close to a high of 80o  F on April 1st; on April 8th, the temperature was close to a high of 50o F and a low of 38o F. So in one week, Mother Nature decided to give us a treat of four seasons in one week.
This year, the Amboy Guardian didn't put the groundhogs with their predictions on the front page because of our printing schedule. It was just as well, because it would have been embarrassing for both ground hogs since they both predicted an early spring.
After having such unusually warm temperatures in March, we had put the groundhogs on a pedestal. Mother Nature didn't like that, because you see, she rules.
You see what happens when the weather gets warm in March and people get the taste of an early Spring. They get a touch of Spring Fever and some don't have enough sense to adjust when the temperatures drop drastically.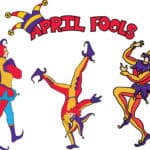 Today (Saturday) was freezing and raining. I saw people wearing flip-flops. I have a feeling that Mother Nature might have another surprise for us. I want to see if those flip-flops come out if Mother Nature decides to give us 5 inches of snow before April is over. Happy April Fools Week!
Everybody needs a good laugh now and then. C.M.