Partnership of Investors Bank and the Renaissance Family of Organizations
News Release 4/27/16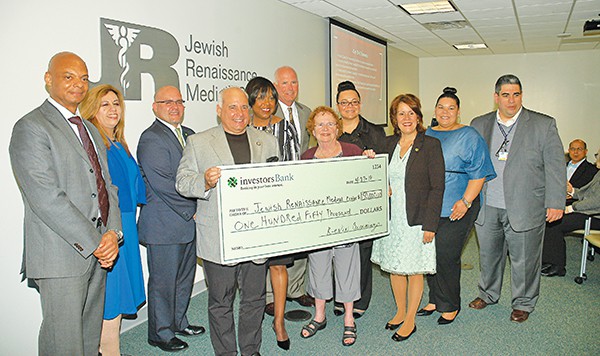 PERTH AMBOY – Today, Investors Bank presented the Jewish Renaissance Family of Organizations (JRFO) with a $150,000 contribution to support JRFO's "Building Healthy Communities" campaign. As one of the Campaign's Founders and leaders, Kevin Cummings, President/CEO of Investors Bank, led the presentation, held at the Jewish Renaissance Medical Center at 11 a.m.  The Building Healthy Communities (BHC) initiative is a 'transformative' campaign to employ a "'social determinants of health' framework to improve the well-being of low-income residents who live within the City of Perth Amboy and the Central Jersey region through integrated investments in healthcare, healthy food options, and systems transformation".  The funding will support specific elements of the BHC campaign as set forth by the four organizations under JRFO's umbrella, i.e., Jewish Renaissance Foundation, Jewish Renaissance Medical Center, Boys & Girls Club of Perth Amboy/Carteret, and the Jewish Renaissance Community Development Corporation.  An outline of the BHC campaign is provided here.
"We are proud to expand our support of the Jewish Renaissance Family of Organizations as a Founder and 'tone-setter' of this pivotal Building Healthy Communities campaign.  Strengthening the areas we serve in with JRFO and within the context of BHC aligns with our very own mission.  We strive to do what is right – that's our bottom line as a bank and community partner", states Kevin Cummings, Investors Bank's President/CEO.
"Investors' contribution will significantly expand our capacity to withstand the dramatic growth in demand for our services. Investors Bank and Jewish Renaissance Family of Organizations have developed an increasingly robust business and philanthropic relationship that has and will continue to benefit numerous persons and families in need within the Central and Northern NJ regions," states Dr. Alan J. Goldsmith, President/CEO of JRFO.
For further information and details, please contact Kari Pencek at kpencek@myinvestorsbank.com, or 732-924-5176; or Sorangie Castillo at scastillo@jrmc.us, or 732-376-6638
*Photo by Paul W. Wang.