The Traveling Vietnam War Memorial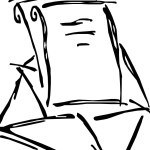 I was privileged to be in attendance at the Traveling Vietnam War Memorial in Carteret, NJ, on Saturday, April 30, 2016.  The Wall itself is a [60% scale] replica of the original Wall in Washington, D.C.  It bears the names of all 58, 307 U.S. Military personnel who lost their lives in the Vietnam War.
The program started at 3 p.m. and featured a long tribute of activities. There was a special performance by the Elite Marine Corps Silent Drill Team.  A fly-over by a Black Hawk helicopter amazed the crowd.  There were military and political officials who showered praise upon the soldiers who gave their lives for their country.
Most impressive was a small white linen tablecloth set for one honoring those MIA/KIA who never made it home. The white table cloth was symbolic of the purity of their intentions to respond to their country's call to arms. The single red rose reminds us of the families and loved ones of our comrades who keep faith awaiting their return. The red ribbon tied prominently on the vase is reminiscent of the red ribbon worn upon the lapel of thousands who bore witness to this tragedy.   The unyielding determination of our soldiers demands us to account for our missing.  The slice of lemon on the plate is to remind us of their bitter fate. There is salt upon the plate symbolic of the family's tears as they wait.  The glass is inverted – they cannot toast with us tonight.  The chair is empty – they are not here.
At the end of the ceremony, there was a reading of over 1,700 names of military personnel from New Jersey that were killed in the Vietnam War. The silence of the crowd was beautiful and respectful as the names were read.
As if summoned by the souls of the departed, a lone Eagle soared as the crowd watched in amazement at the timing of its appearance.
I'm sure that everyone who was there will never forget the beautiful remembrance of those who have sacrificed their lives. I know that I won't.
Barbara Skokan
Good Ole Mr. Peter Book
I see we lost a great spokesman for our community – Good Ole Mr. Peter Book. Now, here's a man who said what was on his mind and told our City politicians the truth whether it be taxes or our constitutional rights. Peter was the person that was concerned about Perth Amboy and its future. He has seen good and bad times. Peter and I had many conversations – from politics to the dark side of government. We understood each other on many issues that others would wonder what we were talking about. Peter was the man at the City Council Meeting – standing up for the taxpayers and concerned citizens. I was hoping one day Peter would write a book about Perth Amboy politics – the good and the bad. I would have loved to help him do it. I was very sad to see him pass away and he will be remembered by many. Like Peter said to me, "Orlando let no one put you down, for what you're doing is right."
Orlando "Wildman" Perez