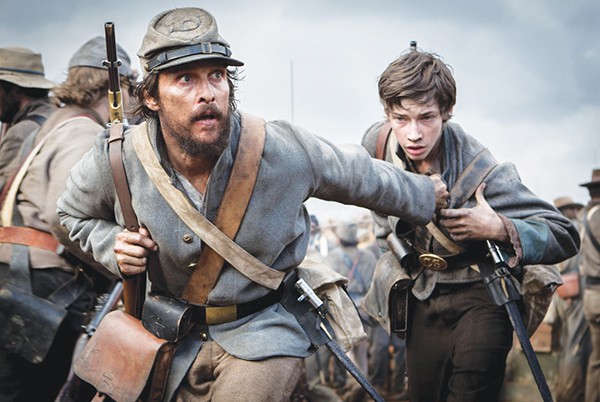 By: Anton J. Massopust III
"This is for our children and for our children's children!"
Matthew McConaughey plays Newton Knight, a Confederate Nurse during the Battle of Shiloh during the Civil War. After a young cousin gets killed right in front of him, Knight has seen too much death and destruction. He decides to desert the Confederate Army and go back home.
But things are not that well at home. The Confederate Government decided that the only way that they can feed the army is by seizing everything that farmers own and raise (livestock and crops).  Knight decides to arm the farmers. After fleeing to the swamps, he organizes an army with three Black Slaves, Confederate deserters and fed up farmers. He eventually kicks out the Confederate Army out of four Counties.
He did all this on his own, even without the recognition of the Union Army.
If you are looking for a heavy duty summer blockbuster, this is not it. "Free State of Jones" is a concentrated character driven drama. Matthew McConaughey gives a stellar performance as Newton Knight as he faced challenges through the Civil War and Reconstruction. This is all the way down to into the 1960's where one of his descendants was still fighting the Civil Rights fight long before anyone ever coined the phrase.
This is a great movie for families to see. Younger kids will be bored, but this is a historical film that should be seen. It has a great supporting cast and wonderful performances. The cinematography is spectacular and the battle scenes were historically accurate.
So if you've already seen all the summer blockbusters, this is definitely something you should seek out.