Photo Release 7/15/16
PERTH AMBOY – A meeting with a hospital president, discussions about operating room care with nurses, and anesthesia and surgical training provided by an anesthesiologist and surgeon; quite a day for a group of 8th grade students from Primoris Academy who visited Raritan Bay Medical Center in Perth Amboy recently.
When Andrew Markov, who attends the Westwood, N.J. school, expressed interest in his father Dr. Nikolai Y. Markov's career, the board certified general surgeon arranged for a class trip with hospital administration.  The students met with Raritan Bay President Michael R. D'Agnes where they had a chance to discuss hospital operations before heading to the surgical unit, donning scrubs and getting some hands-on education.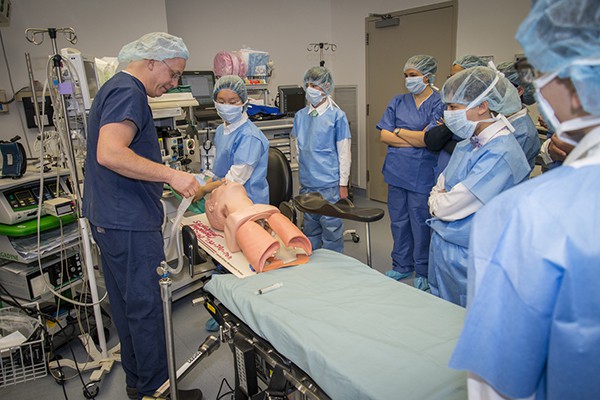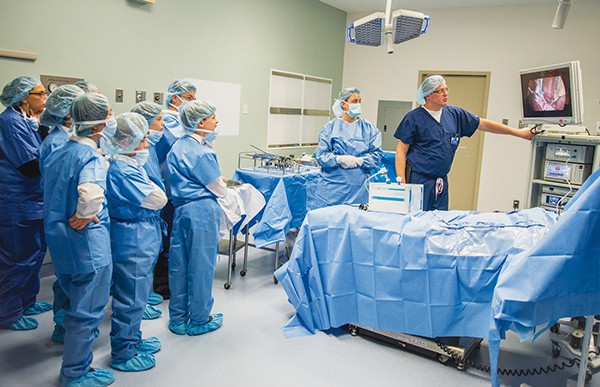 Nurse Manager of the OR Jeanette Cowen, R.N.; Bridget Laudien, R.N.; Victoria Mendez, CST; Marta Wojcik, R.N.; Director of the Division of Anesthesiology Andrew Citron, M.D., and Dr. Markov demonstrated how various surgical equipment is used, simulated laparoscopic surgery and discussed anesthesia, airway management, creating a sterile environment and more. "The need for a surgeon to have innovative and creative skills inspire me to want to be a surgeon," said Andrew. Fellow student Tyler Romeo said, "I loved the mix between the entrepreneurial advice from the president and the experiences provided by the surgical team!"
"We are very appreciative of Raritan Bay for providing our students this unforgettable experience," said Primoris Academy Executive Director Katie Kim. "They could not stop talking about the time they had all the way back, and we've received a lot of positive feedback from parents."  The academy is a private elementary, middle and high school with a curriculum designed for advanced learners.