15 Years in the Making: Closing of the Purchase of the Remainder of Former Delaney Homes Property for the Building of a New State of the Art High School
9/23/16 Press Conference
By: Katherine Massopust
PERTH AMBOY – On Friday, September 23, 2016 New Jersey Schools Development Authority (SDA) Chief Executive Officer Charles McKenna made an announcement at a press conference at the former Delaney Homes Property. The Perth Amboy Board of Education has finalized the purchase of the 11.638 acres of land from the Perth Amboy Housing Authority to be the future site of the new Perth Amboy High School.
At the press conference, McKenna thanked everyone who made this possible. He stated, "Governor Chris Christie made sure that new high schools are being built in New Jersey, especially in Perth Amboy where it's really needed. The new High School will have 535,000 square feet and will accommodate 2800 students. The project will cost $234 million which is paid for by the SDA."
Douglas G. Dzema, PHM Executive Director of the Housing Authority thanked everyone who made this possible.
Dorothy Carty-Daniel, Chairwoman of Perth Amboy Housing Authority spoke a few words regarding this historic moment, "It is Friday, September 23, 2016 – It's been a 15 year journey. I stand before you as a parent, a grandparent, educator, school administrator, former Board of Education Member and long term Housing Authority Officer. A total of all which brings me to this place today. A free public school education is the right of every child in our country and it is the government's responsibility to provide. The many thoughts that come into my mind as I stand  before you today are words like: students, education, patience,planning,  tenacity, preparation, due diligence, children, honor, thought  and responsibility. We would never be at this junction were it not for the steadfast tenacity and due diligence of the SDA and individuals such as Paul Hamilton, Joe Higgins and Charles McKenna. They truly fought the good fight for the children of this district. I thank God  for them and our Director, Doug Dzema who never lost his focus. I also thank my Board of Commissioners for allowing me to negotiate on their behalf. May this proposed institution of learning be the catalyst that successfully moves our youngsters into a brilliant future they so richly deserve. May God bless us all."
Some students from James Flynn Elementary School came to the event. Superintendent Dr. David Roman stated, "Here are the stars of the show. Now, there are troubling times. Building a high school for this district is doing something right. Our students that are here are due to arrive at the gate in 5-6 years. Adults see them and they matter. On behalf of Perth Amboy Public Education System, the students should know that they matter in this world."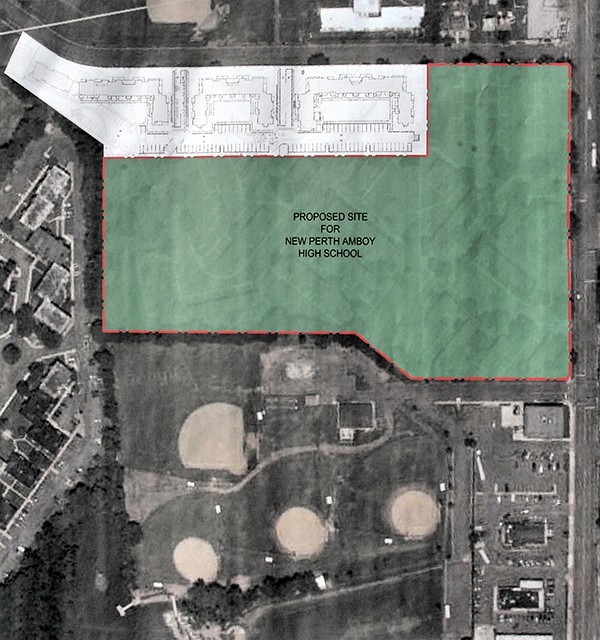 Board President Sam Lebreault spoke next, "Getting here has not been easy. In 2011, the City was looking to redevelop this property. I went here with Doug Dzema. There were 15.6 acres that could be used for a new High School. They were going to develop the property. After meeting with the State, the SDA stated it will recommend this property to be used if bought by the Board of Education. Last week, I signed a $7.4 million check to the Housing Authority for the land to be used as a site for the new High School."
Senator Joe Vitale 19th District stated, "Today is a great day. For decades to come – the SDA stated that this is the only viable location (to build a High School). All the others did not pass the test. I'm pleased to be a part of the process."
Assemblyman John S. Wisniewski offered a few remarks, "It's 15 years and coming since the first discussions on a new Perth Amboy High School. I want to thank everyone who had roll in making it happen. It's the best thing we can do to preserve our democracy."
Mayor Wilda Diaz spoke next, "I want to thank everyone for making this special day – a historic day for Perth Amboy. It's a long time coming. For years there came rumors on a new high school. By the end of 2018 all brownfields in Perth Amboy will be developed. PAHS is my alma mater. My children also graduated from Perth Amboy High School. I want the day that our children can be proud to say they went to school in Perth Amboy. This is really emotional for me. There finally is going to be a new High School. I want to thank you for putting our children first."
The Amboy Guardian asked Board of Education President Sam Lebreault about some details about the plans for school construction and renovation in Perth Amboy. "After the new High School is built, the old High School on Eagle Avenue will be renovated and remain a high school. The BOE had purchased 3 properties by Patten School, Shull School and the Ignacio Cruz Center to build a cul-de-sac for parking and alleviate traffic problems in that area. The present administration building on Barracks Street will be remodeled to be a new Middle School. Shull School and McGinnis School will remain and the town will have 3 Middle Schools. Construction will begin on East Avenue for a new Administration Building. The original proposed bus depot will be located at another site. East Avenue was too centrally located for the proposed bus depot. We are looking at some properties now."
Lebreault continued, "The new high school will accommodate 2800 students and encompass 11.7 acres. Superintendent Dr. David Roman is working corroboratively with the State Department of Education to develop a program that will help design the necessary learning spaces that will be suitable for the new High School. When that is completed, bids will then go out to select a designer. Before any construction takes place, everything first must be demolished at the site and proven environmentally sound. This will be the largest High School ever built by the SDA. The whole project will hopefully be completed by 2022."