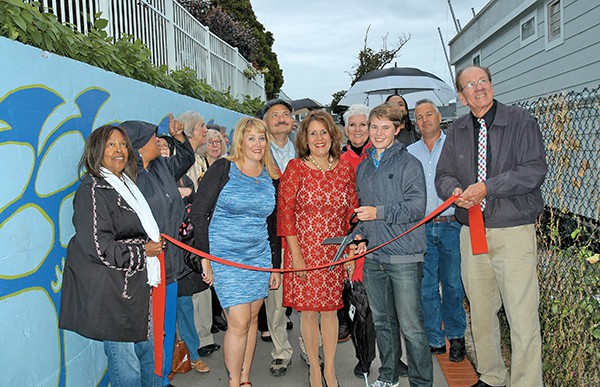 9/29/16 *Photos by Paul W. Wang
PERTH AMBOY – Perth Amboy Artworks unveiled a mural titled Nautical Abstractions: Perth Amboy by the Sea completed by local artist Kerry Dyke. The mural is a 650 ft. mural located on the waterfront walkway, near the municipal parking lot behind the Raritan Yacht Club. A reception was held at the Barge afterwards.
Artist Kerry Dyke is a lifelong resident of Perth Amboy and a sophomore at Rutgers Mason Gross School of the Arts. Kerry developed the mural proposal while interning this summer at Perth Amboy Artworks, a new nonprofit in Perth Amboy that uses Arts & Culture to help revitalize the community. The idea was to help complete the restoration of the popular waterfront walkway that had been destroyed by Super Storm Sandy by adding a large piece of vibrant nautically inspired public art to beautify the blank wall. The mural is brightly colored turquoises, blues and sea greens. The artist said the abstract work is open to interpretation by viewers, but had intended that the four panels portray sea grass, sea creatures, rocks, and sailboats. Kerry had to complete the Perth Amboy Arts Council's mural application to create the piece. The application included gaining permission from the Raritan Yacht Club for use of the easement wall they share with the City. Kerry also had to create scale drawings of the project, and superimposed those images onto the proposed wall.