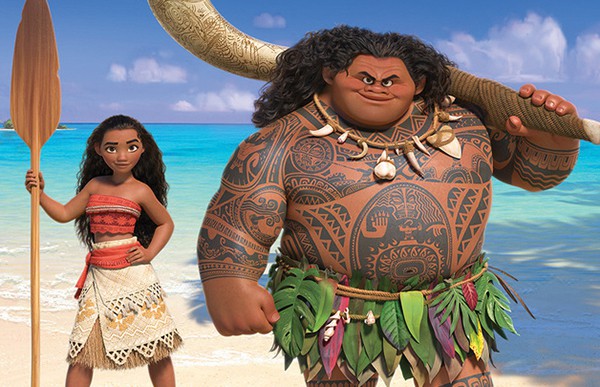 By: Anton Massopust III
Moana "to get my magic hooks back we've got to go through a whole ocean of bad" – Maui
"Moana" is the latest Disney animated film to tell the tale of a young princess who sets out on a quest to save her people. The movie is beautiful and fun. Moana (Auli'i Cravalho) is a young girl whose grandmother (Rachel House) tells her that a special person must journey across the ocean to find a demigod who stole the heart of the sea. Moana must convince him to bring it back before an oncoming darkness destroys their world.
Forget your traditional princess with the long blonde hair, flowing dress and a castle – Moana doesn't need them. She has powers of her own, and thru her connection to the ocean, so she can handle anything that the ocean throws at her.
The story is a bit slow to get going, but when she does eventually meet Maui (Dwayne "the Rock" Johnson), the story really picks up pace.
There's plenty of great Disney music throughout, especially Maui's song "You're welcome."
The big reason to see "Moana" is the fantastic animation. Massive oceans, huge storms full of dangerous lightning, the beauty of the Pacific islands are all beautifully rendered. The colors are alive and it makes for very vivid imagery. The characters are memorable and the voice acting is excellent. Moana makes a great princess, and the Rock brings the demigod, Maui to life. My only complaint is that it hits all the notes you expect from a Disney animated film.
Recent films like "Wreck-it Ralph" and "Zootopia" felt completely fresh and original whereas Moana is your typical princess on a quest film. It's well done with excellent characters, but it feels like we've traveled this road before. Little kids will love it, as will fans of great animated films, despite the fact that we've seen this story before.