Sayreville Previously Provided Additional Services in Necessary Situations
By: Joseph L. Kuchie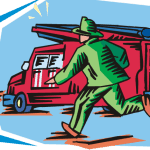 SOUTH AMBOY – The city of South Amboy discussed its agreement to have Middlesex County provide fire prevention services to the city moving forward instead of Sayreville.
Business Administrator Camille Tooker explained that she and the Mayor had reviewed both proposals from both Sayreville and the county, and in the end the offer from Middlesex County was more beneficial to the city.
"We met with the county and we became aware of some additional benefits that the city can derive from in that agreement, and of course our goal is to get the most for the city and its residents," Tooker said.
Councilmen Tom Reilly and Brian McLaughlin asked if the fees and response times would change, considering how close Sayreville was to South Amboy. Mayor Henry assured them that they were in good hands with the county.
"We were assured that there wouldn't be any problem whatsoever, that they would have two inspections on site with anything we needed," Henry said. "As Camille said we did our due diligence and went over both sides and came down to the conclusion of knowing the county would be the better of the two deals."
"Not that we had any problem at all with Sayreville," he added. "I have no complaints what so ever, but in making a comparison we believe there was a little more that the county could offer. "
The contract with Middlesex County is for seven years, but Mayor Henry explained that the city has the option to get out of the deal whenever they want if a problem came up. He also noted that the local fire chiefs were on board with the new deal.
The city also announced that the South Amboy Police Department has reached an agreement with East Brunswick to use their training facility. South Amboy's current shooting gallery was closed in order to make room for the new ferry terminal.
The meeting began after an hour-long closed session. All members of the council were in attendance.