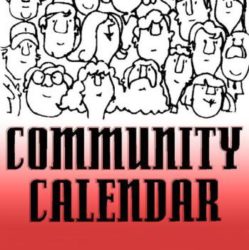 Souper Sale at St. John's Lutheran Church
PERTH AMBOY – Purchase a quart of homemade soup for your Super Bowl Party! St. John's Evg. Lutheran Church is having a Souper Sale on Feb. 5th. The soup choices will be Chicken Noodle, Beef Vegetable & Lentil (Vegetarian). The cost is $8.00 a quart or 3 Quarts for $20.00   Orders will be taken from Jan 15 until Feb. 2.
Contact Lorraine at 732-996-8860 or kookie.mc@verizon.net to place your order. Pick up will be on Sunday Feb. 5 from 11:00 a.m. to 1:30 p.m. at the Church, 664 Amboy Ave (use the side door on Meredith St.)
Art Through Technology: City wide 3D Design Contest
SOUTH AMBOY– The Dowdell Library of South Amboy will be holding an innovative art competition using 3D printing technology.  Using the library's 3D printer or 3D pens, community members of all ages may enter the art competition from January through June 15.  Entries must be entered within one of the following categories: the waterfront, pets and a floral theme. Age categories will range from children through seniors.
Entries will be exhibited at the South Amboy Arts exhibition hall on Broadway during July and August.  The community will have the opportunity to vote for the winners in each category. For more information, contact the library at comments@dowdell.org or 732.721.6060.
To learn about free programs, sign up for the library's monthly eNewsletter at http://dowdell.org/newslettersignup.html
The Dowdell Library's hours are Monday, Tuesday, Thursday from 10 am to 8 pm, Wednesday and Friday from 10 am to 5 pm and Saturdays from 12-4 pm. For more information, please visit www.dowdell.org, or contact the Library at 732-721-6060 or comments@dowdell.org.
CASA of Middlesex County – Volunteers Needed to Advocate for Children in Foster Care
NEW BRUNSWICK – Court Appointed Special Advocates (CASA) of Middlesex County has current openings for volunteers to advocate for children from Middlesex County who have experienced abuse or neglect.
CASA volunteers are appointed by a judge to speak for a child's best interests.  They meet with the child and research the child's circumstances with the goal of securing a safe and permanent home for the child as quickly as possible. CASA volunteers come from all walks of life, with no special background needed.  Applicants must be at least 21 years of age and pass background checks.
The next volunteer training session begins on February 21, 2017. Applications must be received by Friday, February 3. If you are interested in volunteering call (732) 246-4449, email melanie@casaofmiddlesexcounty.org, or visit www.casaofmiddlesexcounty.org/volunteer for more information and a volunteer application.
Chili Church
PERTH AMBOY – Thursday, February 2, 6:30 p.m., St. Peter's Episcopal Church 183 Rector Street, Perth Amboy. Free event. More information call 732-826-1594. Free Event.
A.C. Bus Trip–San Salvador Seniors
PERTH AMBOY – The San Salvador Seniors are sponsoring a bus trip to Caesar's Casino in AC on Thursday, February 2, 2017. Bus leaves 12 Noon from the Perth Amboy Knights of Columbus, High Street, Perth Amboy. Cost 30 pp. Receive $30 back in slot dollars. For more info call Joe at 732-826-0819.
Total Joint Replacement Education Session
PERTH AMBOY – The Human Motion Institute at Raritan Bay Medical Center, a member of the Hackensack Meridian Health family, is sponsoring a free "We Keep You Moving" Total Joint Replacement Education session Friday, February 3, 8:00 a.m. to 9:00 a.m., at the medical center's Perth Amboy location, 530 New Brunswick Ave.  The session is intended for patients who have been scheduled for joint replacement surgery or for those who would like to learn more about joint replacement. Registration required, call Nurse Navigator Clare Schuld, R.N., at 732-535-4746.
Caribbean Night
PERTH AMBOY – Saturday, February 4, at 6 p.m. at St. Peter's Episcopal Church. Admission is $15 a person (12 and over) $8 for between 5 and 12, under five free.  Families with more than two children only pay for the first two. St. Peter's Episcopal Church, 183 Rector Street, Perth Amboy. For tickets call 732-826-1594.
New Jersey Firefighters and Police Face Off at Charity Hockey Event to Benefit Childhood Cancer Research
NEW JERSEY – In their continuing efforts to raise funds and awareness for the fight against childhood cancer, the New Jersey State Firefighters Mutual Benevolent Association (NJFMBA) and the New Jersey State Policeman's Benevolent Association (NJSPBA) will compete to raise money for Alex's Lemonade Stand Foundation (ALSF). Members of NJFMBA and NJSPBA will face off in a charity hockey game on Saturday, February 4 from 1- 4 p.m. at the Prudential Center, 25 Lafeyette St., Newark NJ 07102.
Last year's charity hockey event raised $10,000 in one day for ALSF and childhood cancer research. This year, they're hoping to surpass that with a goal to raise $15,000. Colors will be presented at the game and the national anthem will be sung by a NJFMBA member's daughter. Local childhood cancer hero families will be in attendance.
Tickets are $20 for adults, $10 for children (ages 7-17) and free for children 7 and under and can be purchased online at www.njfmba.org/charitygame17.  Seating is first come, first served so spectators can sit as close to the action as possible. Guests are encouraged to bring their noisemakers to make the noise level rival a Devil's game!
Dog Therapy Training Course
PERTH AMBOY – Raritan Bay Medical Center, a member of the Hackensack Meridian Health family is offering a five session Dog Therapy Training Course Saturdays, February 4 through March 4, 10:00 a.m. to 11:00 a.m. or 11:00 a.m. to 12:00 p.m., at the Raritan Bay Area YMCA, 357 New Brunswick Ave., Perth Amboy.  This course will teach you to be a safe handler and train your dog to provide therapy for patients.  The cost is $120.00, testing fees are additional.  Please contact Marie at mcolasanti@comcast.net for more information and to register.
Catholic Schools Week 2017 Open House
PERTH AMBOY – Assumption Catholic School at 380 Meredith St, Perth Amboy, NJ will join nearly 8,000 Catholic Schools across the nation in celebrating Catholic Schools Week. Parents and prospective preschool through grade eight students are invited to visit our school on Sunday, February 5, 2017 from noon to 3:00 p.m. for the Open House. You will have the opportunity to tour the school and enjoy conversation with Principal and current students, who will be assisting with each tour. Registrations for the 2017-2018 school year, will be accepted at these sessions. ACS is fully accredited by the Commission on Elementary Schools – AdvancED. It's never too early to start thinking about giving your children the great gift of a Catholic education – one which is effective and affordable! If you can't make it to the OPEN HOUSE, feel free to call the School office and set up a tour with us at any time. Our principal is always more than happy to do a walk-through with you and answer all your questions! To receive more information about the school, call 732-826-8721 or visit www.assumptioncatholicschool.net.
Stress Management
PERTH AMBOY – Horizon Blue Cross Blue Shield Stress Management at the Perth Amboy Free Public Library, 196 Jefferson St., Perth Amboy, 2/7/17.
'First Steps' Diabetes Workshop
OLD BRIDGE – The Joslin Diabetes Center, Affiliate at Raritan Bay Medical Center, a member of the Hackensack Meridian Health family, is providing an educational workshop "First Steps" Tuesday, February 7, 1:00 p.m. to 3:00 p.m. in Suite 420, Medical and Surgical Pavilion, 2 Hospital Plaza, Old Bridge, NJ.  "First Steps" reviews the basics of diabetes self-management, including; blood sugar, hypo- and hyperglycemia and target ranges, foot care, medication and nutrition.  Registration and insurance verification is required; call 732-360-4070.
Faith Basics: A Monthly Class On the Basics of Judaism and Christianity
PERTH AMBOY – Faith Basics – A Monthly Class On the Basics of Judaism and Christianity. Held once monthly on Tuesday nights at Congregation Beth Mordecai, 224 High Street, Perth Amboy. Future Classes – Feb. 7, Mar. 7, Apr. 4. Cost: $10 per session or $25 for all 5 sessions. Please RSVP to Rabbi Ari Saks (ari.saks@gmail.com), Reverend Anne-Marie Jeffery (ajeffery04@yahoo.com), or via our Facebook Event page – Faith Basics. This program is jointly sponsored by Congregation Beth Mordecai and St. Peter's Episcopal Church.
The Berkow Maternity Pavilion & Family Health Information Open House
PERTH AMBOY – Raritan Bay Medical Center, a member of the Hackensack Meridian Health family, monthly tour of The Berkow Maternity Pavilion and family health information open house will be held Wednesday, February 8, 7:00 p.m. to 8:00 p.m.  Newly expectant parents are invited to tour and learn about the maternity unit's modern comforts, designed to provide a calm and relaxing birthing experience.  Participants are asked to meet in the main lobby of Raritan Bay – Perth Amboy, 530 New Brunswick Ave.  Registration required, call 1-800-DOCTORS (1-800-362-8677) and reference zip code 08861.
African-American Film Festival
PERTH AMBOY – African American Film Festival at the Perth Amboy Free Public Library, 196 Jefferson St., PerthAmboy. Thursday Nights from 6 p.m. to 8 p.m.
2/9/17 – The African American: Many Rivers to Cross
2/16/17 – Malcolm X
2/23/17 –  Black in Latin America: Haiti and Dominican Republic – An Island Divided
Meditation: Improving our Practice, Experiencing the Love Within
WOODBRIDGE – Please join us on Thursday, February 9 at 7:00 p.m. at the Woodbridge Main Library, for Meditation: Improving our Practice, Experiencing the Love Within.  Facilitator Jim Rose will help you discover the best way to integrate meditation into your daily life and unlock the doorway to deep inner peace and love. He will show you how you can awaken to the power of divine love through meditation. The more you meditate, the more you experience the peace, joy, and love inside you. This love transforms you and those around you.
Jim Rose, M Ed Rutgers University, is a former executive with Johnson and Johnson.  By the time he retired, he was senior vice president in charge of quality management for the J&J Pharmaceutical Group worldwide. Part of Jim's global responsibilities was teaching conflict resolution through collaboration, the need for respecting and caring for one another, and the necessity of working toward win-win outcomes. As a member of Science of Spirituality, Jim brings his skills to the organization, leading workshops focused on meditation and spirituality and their practical application to daily life. He has spoken all over the world: from throughout the United States and Europe to Dubai and India.
This program is free and no registration is required.
The Woodbridge Main Library is located at 1 George Frederick Plaza.
Yoga Beer/Wine Event to Benefit The Columbian Club #426
SOUTH AMBOY – Yoga and beer/wine may seem like an unlikely match, but if you give it a try you may be surprised. The relaxed feeling you get when you have a drink will help you feel less anxious and more confident. ​This is a great way to try something new, easy and relaxing Yoga in a safe comfortable environment.  Make new friends, release tension and stress from everyday life and experience something different. Grab a friend, bring a mat and join us on February 10th,  to relax and release. This event will be held at the Knights of Columbus #426, 308 Fourth Street, South Amboy. Friday, February 10, 6:30pm-8:30pm, $20 per person.  Participants must be over 21. Price includes: 50 minute Yoga Class and 1 Pint of beer or 1 glass of wine. Part of the proceeds go to The Columbian Club #426.
For more information or to register please call Denise Morgan, CPT, CGEI, Certified Yoga Teacher 732~525~9536 or email healthandfitnesswithdenise@gmail.com.
Total Joint Replacement Education Session
PERTH AMBOY – The Human Motion Institute at Raritan Bay Medical Center, a member of the Hackensack Meridian Health family, is sponsoring a free "We Keep You Moving" Total Joint Replacement Education session Friday, February 10, 8:00 a.m. to 9:00 a.m., at the medical center's Perth Amboy location, 530 New Brunswick Ave.  The session is intended for patients who have been scheduled for joint replacement surgery or for those who would like to learn more about joint replacement. Registration required, call Nurse Navigator Clare Schuld, R.N., at 732-535-4746.
Tax Preparation Services
PERTH AMBOY – Tax Preparation Services at Perth Amboy Free Public Library, 196 Jefferson St. provided by Vita Group. Dates: 2/11, 2/25, 3/11, 3/25. By appointment only. 732-826-2600.
Healthy Heart Event
WOODBRIDGE – Raritan Bay Medical Center, a member of the Hackensack Meridian Health family is sponsoring a Healthy Heart event Sunday, February 12, from 11:00 a.m. to 4:00 p.m. at the Woodbridge Center Mall, 250 Woodbridge Center Drive, Woodbridge, NJ.  Are you at risk for heart disease? Learn signs and symptoms and how to start living a healthy lifestyle.
Celebration of Black History
PERTH AMBOY – The "Friends of the Library" will be having a Celebration of Black History at the Perth Amboy Free Public Library with African Storytelling, Percussions and Dance, Games, Arts & Crafts! Come join us! On Saturday, February 18, 2017 12:00-2:00 p.m. – Admission FREE! Perth Amboy Free Public Library Children's Department, 196 Jefferson St., Perth Amboy. Presenter:  Joycelyn Gumbs Alsup, Former Teacher of the Dr. Herbert N. Richardson School
Spaghetti Dinner
PERTH AMBOY — The Diamond Breakers will host a spaghetti dinner Sunday, February 19, at 2pm to benefit Perth Amboy's 14u Girls' Softball travel team. The dinner is slated for 2 p.m. at the Alexander Jankowski Community Center, located at 1 Olive Street. The dinner will feature food from Perth Amboy businesses. Tickets are available at presale from any Diamond Breaker softball player, or at the door for $10 or $7 for seniors. Children under 5 are no charge. Take-outs will also be available. For more information, contact the Diamond Breakers at diamondbreakerspa@gmail.com
4th Annual African American History Month Celebration
PERTH AMBOY – PRAHD is thrilled to be honoring Bob McCoy with the Arturo Alfonso Schomburg Award for all the love and care he gives to our community in the City of Perth Amboy.  Please join us as we celebrate the many contributions of Bob McCoy during African American History Month. Special Guest ~ Dean Schomburg. Friday, February 24, 2017 – Noon to 2 p.m. PRAHD,100 First Street, Perth Amboy.
150th Anniversary of Thomas Mundy Peterson 'Casting My Ballot for Liberty' Play
PERTH AMBOY – Friday, February 24, 2017 at 7 p.m. at the Academy for Urban Leadership, 612 Amboy Ave., Perth Amboy. Tells the story of New Jersey Native, Thomas Mundy  Peterson whose simple act marked an important milestone in our nation's racial and political evolution . . . He cast a vote! Casting My Ballot for Liberty that appeals to young people's civic sense and provides them with a unique historical perspective on current issues involving voting rights in our democracy.
A.C. Bus Trip – Hungarian Reformed Church
PERTH AMBOY – The Fellowship Circle of the Hungarian Reformed Church is sponsoring a Bus Trip to the Tropicana Casino, Atlantic City on Sunday, March 12, 2017. Bus leaves the church at 331 Kirkland Place, Perth Amboy at 12:00 noon for a 6 hour stay at Casino from when we arrive in AC. Cost: $27.00 per person ($25 slot play) Bagged lunch provided -To reserve a seat call:  732-261-8726.
Thomas Mundy Peterson Day
PERTH AMBOY – Come Celebrate Thomas Mundy Peterson Day at the Library, 196 Jefferson St., Perth Amboy all day, Friday, March 31, 2017.
Come To Washington, D.C. For 2nd Annual DC Bike Ride
Experience the Nation's Capital from a Bike While Riding on Closed Roads Past Famous Landmarks
WASHINGTON – DC Bike Ride, the region's premier scenic urban bike ride, invites visitors to cruise through the District on May 14 as part of ongoing National Bike Month celebrations.  Registration for the May 14 event is now open at http://www.dcbikeride.com, where registrants can take advantage of the early bird rates.
Make the drive from New York to D.C. for the perfect family-friendly activity on Mother's Day.  DC Bike Ride offers a unique, recreational car-free tour of our nation's capital. Riders will pedal by some of the capital's most-recognizable sites, including the Washington Monument, the White House and the John F. Kennedy Center for Performing Arts. Participants will conclude their journey with a post-ride celebration on Pennsylvania Avenue near the United States Capitol. (The 2017 course can be found at dcbikeride.com/2017-course/).
"We are excited to announce the return of DC Bike Ride," said Greg Bibb, Capital Sports Ventures chief executive officer. "This annual event is widely-popular amongst cycling enthusiasts, the active lifestyle community and families. The ride offers a unique opportunity to see some of Washington, D.C.'s most iconic monuments at your own pace and in a car-free environment. DC Bike Ride celebrates life on two wheels, promotes street safety and allows participants from the region and beyond to enjoy a one-of-a-kind journey through the nation's capital."
The inaugural 2016 event hosted more than 7,000 riders. This year, DC Bike Ride expects approximately 10,000 riders to be in attendance as it grows into one of the leading recreational cycling events on the east coast. Washington, D.C. provides the perfect backdrop for the ride. The District was recently voted by Forbes as one of the "10 Most Bike-Friendly Cities In America," and by Travel Channel as one of the "Top 10 Cycling Cities in US." The Washington Area Bicyclist Association (WABA) is the primary benefactor of DC Bike Ride with a portion of the proceeds to benefit WABA's street safety programs.
DC Bike Ride has partnered with Marriott to provide participants with hotel options within the district. Discounted nightly rates at two great locations in close proximity to the start line are available atdcbikeride.com/hotel2017/. In addition, participants in need of a bike can rent one through Bike and Roll Washington D.C. Visit www.dcbikeride.com for more information.
JOIN DC BIKE RIDE: Registration for DC Bike Ride presented by CareFirst BlueCross BlueShield and Events DC is available starting January 12 and can be purchased by visiting DCBikeRide.com. Early bird pricing starts at $50. Regular pricing, starting at $60, begins on March 1. VIP registration and special group pricing is also available.
JOIN THE CONVERSATION: Fans can also follow DC Bike Ride on Twitter / Facebook / Instagram and #DCBR and #DCBR2017 for updates leading up to the event
Seeking Items to Help the Homeless During the Winter Months
NEW BRUNSWICK – The Point-in-Time Homeless Count & Project Homeless Connect is seeking items to help the homeless during the winter months. The most needed items include:  Gently used coats, new warm hats/scarves, new gloves/mittens, blankets, new warm socks, hygiene kits.
For more information about Project Homeless Connect or to arrange for delivery of donated items, please contact Harriet Slonim at 732-745-4041or harriet.slonim@co.middlesex.nj.us.
Red Cross Critically Needs Donors After Winter Weather Adds to Severe Blood Shortage
NEW JERSEY – Following several rounds of severe winter weather in many parts of the country, the American Red Cross urges eligible blood and platelet donors to help restock its shelves to overcome a shortage.
Since Dec. 1, about 300 blood drives across 27 states have been forced to cancel due to inclement winter weather, resulting in more than 10,500 blood and platelet donations going uncollected.
Blood donor Jim Taylor knows how it feels to have a loved one waiting for a transfusion. His son Aaron was born with a rare liver condition. In the short two months of his life, he received 115 blood products. Taylor said each transfusion gave his family more time with Aaron, so he encourages others to give.
"When the Red Cross says there is a shortage, they are not exaggerating," said Taylor. "I now know from experience that what they are saying is somewhere there is a father waiting on the donation that will save his son's life. When the Red Cross asks for help, what that means is a new dad is praying for a miracle."
To make an appointment to give blood, download the Red Cross Blood Donor App, visit redcrossblood.org or call 1-800-RED CROSS (1-800-733-2767). Donors are encouraged to make appointments and complete the RapidPass online health history questionnaire at redcrossblood.org/rapidpass to save time when donating.
Ask the Rabbi
Wednesdays, 12-1 pm @ Food Court in Menlo Park Mall (between Chik-fil-A and Panera). Have a question? Have a seat! Bring your lunch and ask Rabbi Ari Saks of Congregation Beth Mordecai ANY question you'd like about Judaism, life, spirituality…anything! First person to come will get a FREE drink from the rabbi. For more information please contact Rabbi Saks at
ari.saks@gmail.com
Free Agent Players, New Team Managers And Teams Wanted – Play Hardball!
NEW JERSEY – The Amateur Baseball Association is the largest adult baseball league in NJ and we are getting bigger!
Free Agent Player fee is $160 for 22 game season.
If you are interested in being a new manager of a team of free agent players let us know. We can assist your team with equipment & support, as well as other incentives. Contact us to find out more!
What we offer:
• 22 Game Spring Season runs April through July with August playoffs. Games are Sundays.
• Multiple Skill Levels for Wood & Metal Leagues
• 2 Full Time Commissioners with 15+ years experience
• Various, defined skill levels for all playing abilities
• Flexible master scheduling
• Field and Accidental Medical Insurance
• League & Team Website for stats & schedules www.AllStarTeamStats.com
• Wilson A1010 Game Baseballs
• Umpire Assigning
• Proactive Customer Service
Play HARDBALL …  Play ABA! If you are interested call Jason @ 201-873-3349 or email Larry at NJBaseball4all@aol.com.
Kearny Cottage Open
PERTH AMBOY – Come visit the historic home of Commodore Lawrence Kearny. The Cottage is located at 63 Catalpa Ave, Perth Amboy, and is open on Mondays and Thursdays from 2 p.m. – 4 p.m. and the last Sunday of the month from 2 p.m. – 4 p.m. by appointment. The Kearny Cottage needs your help.  Anyone interested in joining the Kearny Cottage Historical Society please contact 732-293-1090.  We are on the web!   www.KearnyCottage.org
Proprietary House Open
PERTH AMBOY – The Proprietary House, the last official Royal Governor's residence still standing in the original 13 colonies, is open every Wednesday from 1:00 p.m. to 4:00 p.m., for tea and tours.  Tea  is served in our atmospheric candle-lit wine cellar, and includes our delicious homemade desserts and assorted teas. A $10 donation, $5 for children under 12, covers both the tea and a mansion.
Although the house is still in the process of being restored, some rooms have been newly decorated. Go back in time and learn about William Franklin and other residents of the house. It's a perfect way to spend a pleasant afternoon. The gift shop is also open.
Groups are welcome, although reservations are required for groups over six people. The Proprietary House is located at 149 Kearny Ave., Perth Amboy, NJ. Tel. 732-826-5527 E-mail: info@proprietaryhouse.org. Follow us on our website, www.theproprietaryhouse.org and/or Facebook.
Volunteer Drivers Needed For Meals on Wheels Program
HIGHLAND PARK – Jewish Family Services of Middlesex County (JFS) is in need of volunteer drivers to deliver meals to homebound senior adults in the Highland Park area for the Kosher Meals on Wheels Program.  The program delivers meals Monday – Friday mornings. A commitment of at least 2 days per month for regular volunteers is required. Also seeking substitute drivers who can fill in as needed throughout Middlesex County.  Must have valid driver's license. Please contact the JFS Volunteer Coordinator for more detailed information at 732-777-1940 or visit www.jfsmiddlesex.org under the Volunteer Tab.
Become A Member of the South Amboy First Aid & Safety Squad
SOUTH AMBOY – Serve the Emergency Medical Needs of Your Community! A Unit of A.R.C. If you are at least 16 years old and have a few available hours in your day each week to give to others, contact us at Southamboyfirstaid.org or call (732) 721-1005. South Amboy First Aid Squad serves our residents 24 hours-a-day, 7 days-a-week, 365 days-a -year. The squad is an independently run private organization, completely staffed by dedicated volunteers and supported by tax-deductible donations. Join your fellow residents with service to our community. Neighbors Helping Neighbors! All training courtesy of the South Amboy First Aid Squad. See how a little bit of your time can benefit so many. Become A Volunteer Member Now! South Amboy First Aid Squad – PO Box 328 – South Amboy, NJ 08879.
Exploring Law Enforcement
NEW JERSEY – Get your hands on the challenging field of Law Enforcement. Law Enforcement Exploring offers young men and women ages 15-20 the chance to experience law enforcement career opportunities. For information about scouting contact Will C. Adams Office# – 973-765-9322 ext. 234; Cell# – 732-540-5936 or email: will.adams@scouting.org Join Now!
Bingo
PERTH AMBOY – Magyar (Hungarian) Reformed Church Hall, 347 Kirkland Place, Perth Amboy (Shuttle service from church parking lot on Wilson Street from 5:45 p.m. to 7:15 p.m.) $1,000 BINGO on Mondays. Doors open at 6:00 p.m. Bingo starts at 7:30 p.m. Kitchen will be open. For more info: Call 732-442-7799 or 732-261-8726.
Sayreville/South Amboy Police Auxiliary Members Wanted
SOUTH AMBOY/SAYREVILLE – Attention South Amboy / Sayreville Residents:  The Sayreville Police Auxiliary is seeking new members to join its volunteer force. If you are interested in a future in law enforcement and have a desire to serve your community, this is a great opportunity! Interested applicants must be 18 years of age or older, be able to pass a criminal background check and possess a valid New Jersey driver's license. Interested applicants can download an application from: www.sayrevillepoliceaux.org
Bingo
SAYREVILLE – FEELING LUCKY! Get out of the house and off the couch – come enjoy an evening or afternoon playing Bingo. St. Stan's Parish, 225 MacArthur Ave., Sayreville – has Bingo each Thursday evening, with doors opening at 6 p.m. and games beginning at 7:30 p.m. We also have Sunday afternoon Bingo each week, with doors opening at 12 Noon and games beginning at 1:30 p.m. Our kitchen is open for great homemade lunch and dinner specials along with a nice selection of snacks to munch on. Please call our Parish Office at (732) 254-0212 for more info. See you there!
Christ Church of South Amboy Thrift Store and Services
SOUTH AMBOY – 1. Our Thrift Store is open: Tuesday, 12 p.m. until 3 p.,. and Thursday, 12 p.m. until 3 p.m. All are welcome to shop.
2. Please join us for Mass and Fellowship on: Saturday, Service at 5:00 p.m., and Sunday, Service at 9:00 a.m. Fellowship follows our 9:00 a.m. Mass. Christ Church is located at 257 Fourth Street, South Amboy. The entrance for parking is on Main Street.
DVD/Media Drive
SOUTH AMBOY – The Sadie Pope Dowdell Library is having a DVD/Media Drive. Please place your unwanted DVDs, Blu-Ray, CDs, and video games in good condition, into the collection boxes at the Dowdell Library, or Madura Pharmacy Your contributions will be donated to the Dowdell Library to help enhance its current collection. Larger collections call Grace at 732-721-6592 for pick-up Thank you for your support! This on-Going Collection Drive is sponsored by the Dowdell Library Foundation, Inc.
Stories From Perth Amboy
PERTH AMBOY – Stories From Perth Amboy by Katherine Massopust is available at the Barge Restaurant, 201 Front St., Perth Amboy or in Fertig's Uniform Store, 195 New Brunswick Ave., Perth Amboy For more info call Katherine at 732-261-2610 or call the Barge at 732-442-3000 –  or Fertig's at 732-442-1079 –  A Great Gift! Get it now along with Then & Now: Perth Amboy!
$100 Groceries for $40 or Less
PERTH AMBOY – The Jolin Food program is designed to provide families with nationally branded food products at wholesale prices. On behalf of the Cathedral's Community Development Corporation, the Jewish Renaissance Foundation's AmeriCorps is helping to promote the Jolin Food Box. Order by the 2nd Tuesday of the month online or by phone and pick up by the 3rd Saturday of the month. Go to  https://jolinfoodbox.com to place your order online or call 732 826 8207 and ask for Juana Kearney.
Have You Volunteered Lately?
PERTH AMBOY – The first and biggest benefit AmeriCorps VISTA members get is the satisfaction of incorporating service into their lives and making a difference in their community and country. The intangible benefits alone, such as pride, satisfaction and accomplishment are worthwhile reasons to serve.  There are other benefits as well including awards, job and education certifications, professional development, and more. For more info call the Jewish Renaissance Medical Center, 275 Hobart Street, Perth Amboy.
Food Stamps Assistance
PERTH AMBOY – Every Wednesday there will be a Food Stamps Assistance Program 10 a.m.- 5 p.m.:  JRF's Family Success Center families to come in and meet with a representative from the Community Food Bank of NJ to assist with food stamps application and eligibility guidelines. For additional information please call 732-638-5063 or visit our office located at: 149 Kearny Ave. Perth Amboy (Rear of Proprietary House).
HIV Support
PERTH AMBOY — Raritan Bay Medical Center is sponsoring an HIV support group meeting on Monday's at 6 p.m. Anyone diagnosed with or caring for someone infected with HIV is welcome to attend.    Meetings  are  held  at  the hospital's  Perth  Amboy Division, New Brunswick Avenue. To register or for more information, call (732) 324-5022.
Volunteer Firefighters Needed
PERTH AMBOY – The Perth Amboy Fire Department: Volunteer Division needs members. Accepting men and women ages 18 years or older.  Volunteers must be a Perth Amboy resident.  For more information please contact 732-442-3430.
Do You or Someone You Know Have Old Photographs or Documents?
The Kearny Cottage Historical Society is looking for old photos and documents of Perth Amboy, South Amboy, Woodbridge, Fords, etc. (local area) for an archiving project. Your photos and documents will be scanned into digital format and returned to you. For more info please call 732-293-1090
Connections Program Seeks Volunteers
MIDDLESEX COUNTY – The Connections Program of Catholic Charities, Diocese of Metuchen, a voluntary child to adult match program is seeking adult volunteers to provide a positive friend relationship to children and youth that has suffered a loss or has special needs.  These children reside in Middlesex County and Franklin Township and are in desperate need of a positive role model.  Adult Volunteers are being sought to make a difference in the lives of children and youth through one-to-one activities.   Any individual 18 years old or older, of any ethnic, religious or economic background, who is interested in making a positive impact on a child's life is eligible to become an adult volunteer mentor.   All adult volunteers will be screened, receive training, staff support and other services as needed.   If you are interested in learning more about the Connections Mentoring Program, please contact Jeanette Cullen at (732) 738-1323.
Notice: Community Announcements or "Shorts"
The Amboy Guardian is committed to serving the community. However, due to the rising cost of print publication, we are forced to now charge a small fee for community announcements in our print version. We will provide one complimentary short paragraph or "short" per event. After your event "short" is published for one week, there will be a $5.00 fee per week charge for each additional "short" published pertaining  to that particular event. For those who pay for a display ad, there will be no fee for additional shorts pertaining to the event in the paid display ad. To our regular loyal advertisers who hold community events, your "short" announcements will remain complimentary. Effective 1/1/16. Thank you.
Carolyn Maxwell, Owner/Editor/Publisher
Katherine Massopust, Asst. Editor/Writer/Layout
The Amboy Guardian.