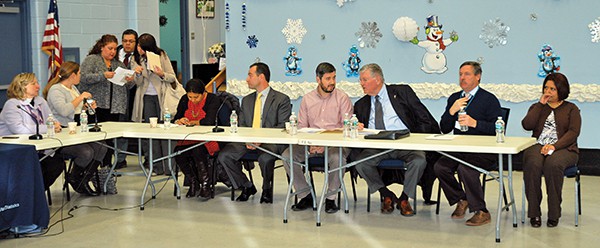 Press Release
NEW BRUNSWICK/PERTH AMBOY – On Monday, January 30, in Perth Amboy, New Jersey, Congressman Frank Pallone, Jr. (NJ-06) and local leaders voiced their opposition to Trump's executive orders on immigration. Earlier this week, President Trump signed executive orders for construction of a Mexican border wall and targeting sanctuary cities by threatening to revoke federal funding.
President Trump has also threatened to revoke DACA (Deferring Action for Childhood Arrivals), a program implemented in 2012 by President Obama to allow certain undocumented immigrants to the United States who entered as minors to stay in the country. He is also said to be considering suspending visas from several Majority-Muslim nations.
Congressman Pallone has called Trump's executive orders a "continuation of his impractical, dangerous and discriminatory beliefs."
The panel included: Congressman Frank Pallone, Jr. (NJ-06), Perth Amboy Mayor Wilda Diaz
(Elected Officials) Representatives of the Anti-Defamation League, Latino Coalition of NJ, Reformed Church of Highland Park, Latino Action Network, NJ Working Families Alliance, LUPE, PRAB, Jewish Family Services, Manavi, El Centro Hispano Americano and others at the Alexander F. Jankowski Community Center, 1 Olive Street, Perth Amboy.
*Photos by Paul W. Wang