A Day without Immigrants?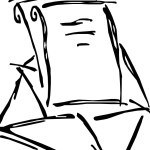 On February 16th, Mayor Diaz led a protest march of illegal immigration supporters in Perth Amboy which shut down some businesses and all Taxis. This was an act of no compassion for the elderly, disabled and unlicensed residents or those without cars who rely on taxis to get to work, school, doctors appointments, ShopRite etc. This protest caused local and area shoppers to not shop here believing services would not be provided. How many children didn't go to school that day? Hundreds? Thousands?
Mayor Diaz must be having political aspirations outside of Perth Amboy.
Mayor Diaz says Perth Amboy is 80 percent Hispanic. That Perth Amboy is 80 percent Hispanic is obvious. The lack of diversity in our city is particularly evidenced by the few sightings of those dreaded and reviled "Christian white privileged males".
Mayor Diaz says we have "thousands" of "undocumented immigrants" in our town. Everyone is aware that illegal aliens live here. Never have I seen anyone running around with a pitchfork and torch chasing illegal aliens out of town. If there are not thousands of illegal aliens here there soon will be.
Mayor Diaz's newly minted "Sanctuary city" and her police departments "Don't ask. Don't tell." policy is illusionary. "Sanctuary city" status provides no more or no less protection to illegal aliens than has been and is currently prescribed by federal and state laws. Additionally, the role of municipal police and its co-operation with federal authorities is determined by the NJ Attorney General's guidelines and not by the mayor of any municipality. Mayor Diaz's "sanctuary city" status and her "Don't ask. Don't tell." policy just serves as a beacon and clarion call for mass illegal immigration into our city for those who are being misled by this falsehood or those who just disregard the law.
Our five square mile city is overpopulated. Our public schools are so overcrowded that defunct Catholic schools and trailers aren't enough to contain the overflow. We are now busing our students to a defunct Catholic school out of town. There is illegal housing of dangerous proportions. Streets are congested. Home owners without driveways have nowhere to park. Driving at rush hour is a nightmare. Perth Amboy's once blue collar working population has trended downward toward underemployed and unemployed. The people in need of social welfare programs are staggering. Lower property values, quality of life, homelessness, crime and safety in our community are already major issues. The influx of thousands more into our community will be devastating.
The Mayor attempts to conflate illegal immigrants and immigrants who with great courage, sacrifice and expense gave up everything to stand in line and wait their turn to enter our country and city legally. Immigrants who call themselves Americans first, uphold and respect the laws of our land and oppose illegal immigration do not have a seat at Mayor Diaz's table. There are no marches led by Mayor Diaz for us.
How long before we see Mayor Wilda Diaz, marching arm in arm with Assemblyman Wisniewski, Congressman Pallone and Senator Booker leading protesters chanting "No justice! No Peace! Resist!" chasing us out of town?
Mayor Diaz should have made her position on Sanctuary Cities and her political aspirations clear before the November 2016 Mayoral election.
Mirian Montalvo,
Perth Amboy Citizen
Susan Batista, Activist vs. Mayor Wilda Diaz in Heated Debate!
A very heated argument occurred at a Mayor's Community Meeting which was held on February 23, 2017 at The Hubs located on Robbins St. in the City of Perth Amboy. Mayor Wilda Diaz was asked by Ms. Susan Batista, why do you, the Mayor of Perth Amboy, continually state that it is "your duty" to protect illegal undocumented aliens living within the City of Perth Amboy. Mayor Wilda Diaz responded that in "her opinion" it is "her duty" to protect the undocumented and she is protecting those people that have "no voice." Ms. Susan Batista's response to her was you as a public official have taken the Oath of Office as Mayor to protect the "citizens" of Perth Amboy and you are required by that oath to abide by the State of New Jersey and the U. S. Constitution upon taking of that Oath.
Instead, it appears that you become a "Rogue Mayor" who has established her own rules of law in Perth Amboy and is in absolute violation of the New Jersey and U. S. Constitutions. For these reasons Mayor Diaz, you should be "indicted".
Mayor Diaz kept stating it was in "her opinion" her duty to protect the undocumented and the people without a voice. (Wilda, can you please explain, what that even means?)
Wilda Diaz, I have you on Facebook for all of the City Council, County Legislators, State Legislators, Prosecutors, NJ Attorney General, the NJ U.S. Attorney General, and most Important- President Donald J. Trump to view your dereliction of duty and ignorance.
Wilda Diaz, you have displayed public actions of Dereliction of Duty, Abuse of your Power as Mayor and possibly being a traitor to our Constitution. You are no longer fit under the NJ or U. S. Constitution to be a Public Official and Mayor of Perth Amboy.
You must resign immediately as a public official and take your "opinions" into action as a private citizen, which is your right. However, as a Mayor you have violated your Oath of Office as Mayor of Perth Amboy by not protecting the citizens of Perth Amboy who are at all times a Mayors first priority. You have no right as a public official to interpret the U. S.  Constitution, to fit your own Agenda!
Susan Batista-
Community Activist