2/24/17
PERTH AMBOY – On 2/24/17 Perth Amboy's Bob McCoy was honored by PRAHD with the Arturo Alfonso Schomburg Award. This award is given to an African-American Individual who makes a difference with contributions to the community.
PRAHD Board Member Carol Dortch Wright who was honored last year was the MC. She welcomed those present and thanked sponsors PRAHD and Horizon Blue Cross/Blue Shield.
To me (Carolyn), Bob McCoy would shine the brightest whenever there was an outdoor activity under his tutelage as an UEZ Chief Administrator. I especially remember the Blueberry Festival held at Bayview Park. The domino tournaments held on the Riverboat St. Charles which attracted clubs from throughout the United States, Puerto Rico and the Dominican Republic. I remember being surprised to see Women Domino Clubs participating. As you can see the photo on right, Bob and his family are pictured with City Clerk Elaine Jasko as the City's first Pink Ribbon Run in 2009.
When Bob retired from the City, his involvement in the Community grew even larger. But one thing that Bob always held deep in his heart besides his family are his childhood friends. Bob grew up with my older siblings and McCoy with some of his siblings started the Reunion of Old Friends. Unfortunately, some of those old friends including my sister are no longer here. One of my older siblings was married to Bob's older brother. Even after they split and my sister remarried the love of the McCoy family never left.
The following are the events and exerts from speeches made to honor Bob McCoy.
Cathedral Pastor Rev. Dr. Danielle Brown gave the Invocation and blessed the food (Catered by the Barge Restaurant).
Mayor Wilda Diaz praised  Bob McCoy who she has known for many years. "You have left a lifelong legacy for all of us. I'd like to showcase, and honor the achievements of Bob McCoy; a man who contributes to businesses in the community. As we celebrate Black History Month, we are here because of all the visionaries. Bob, God Bless you."
Sheriff Mildred Scott spoke next. "I came here two-fold – myself and for the Board of Freeholders who couldn't be here. Bob McCoy's father, Mack McCoy  and My father, Harold Lincoln were founders of the Colored Democrats Club. They expanded by working hard and left a Legacy in Perth Amboy. Growing up, Bob and I both lived in Delaney Homes. Bob, you helped lay the foundation for the town and I praise you for that."
Scott then presented McCoy with a plaque from The Board of Chosen Freeholders.
Congressman Frank Pallone then spoke about the need for pre-school education before presenting a citation to Bob McCoy.
Assemblyman Craig Coughlin spoke next, "Perth Amboy is a wonderful place. My mom grew up here. Bob McCoy is a great guy. While we always don't agree in Trenton, but we do agree that the State of New Jersey appreciates your contributions."
Dean Schomberg who is the grandson of Arturo Alfonso Schomburg was the keynote speaker. "I'll tell you what my grandfather is all about. My grandfather had 7 sons and 1 daughter and 3 wives all named Elizabeth. It's been 104 years after 1913 when my grandfather was an advocate for education. He instituted the first ever Black  Study Program in a University. He was ahead of his time. Beforehand it was believed that people of color made no contributions to society. He had collections of prints, photos, etc. He considered himself a radical whose weapon was history. – A revolutionary historian."
"Bob McCoy believes that people matter. Public service matters. He is a member of the Board of the YMCA, a family man with 4 children and 8 grandchildren. A most worthy honoree. The hardest working executive for a nonprofit."
"Help us to teach each other. It is most important to see one of all races see each other. The story of African Americans is the story of all Americans."
Bob McCoy thanked everyone, "I am sincerely honored. I am filled with gratitude. This testament comes during Black History Month.  I am associated with PRAHD and the YMCA and the Cathedral International. I am grateful for this honor. "It's not what you do or have or what you accomplish; it's who you lift up. You lift me up!"
The last person to speak was Bob Durso. "You blessed me with a mentor and a role model that most people don't have in life. You lifted me up and made me better."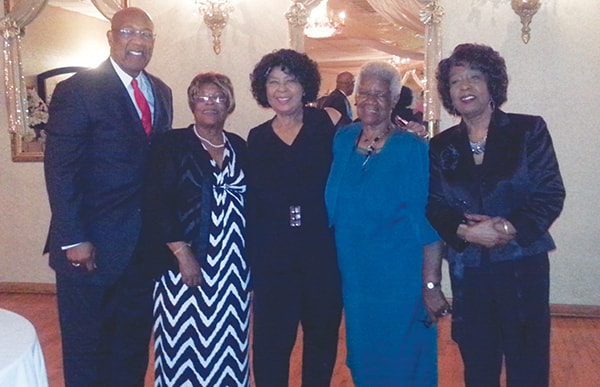 C.M. & K.M.