Press Release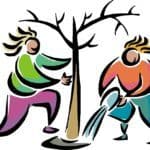 PERTH AMBOY – The 1683 Society Inc. and the City Of Perth Amboy cordially invite the public to a tree planting ceremony at City Hall Circle on March 31, 2017 at 1:00 p.m.
"Over the years we've lost many trees at City Hall Circle. We will be planting two trees to help restore the Circle's natural beauty and acknowledge our historic past," advised 1683 Society President Norman Vazquez.
One tree will be planted in memory of George Washington.  His original tree, which is long gone, was donated by the Ompoge Chapter of the Daughters of the American Revolution. The second tree will be planted in memory of Thomas Mundy Peterson & Marcus Curless, the first and second African-American voters under the 15th Amendment. The March 31st date commemorates the 147th anniversary of their historic vote. A solid cast bronze plaque will set at the base of the tree.
"City Hall Circle is a fitting place to honor both Peterson & Curless, as both men walked this route," stated John Kerry Dyke, a 1683 Society Trustee.  "Their votes were not a random act.  Their actions were a part of their own individual bravery as well as an enfranchising effort by Perth Amboy citizens."
Mr. Dyke added, "At a time when other communities were trying to stop Black Americans from voting, the good people of Perth Amboy encouraged the right to vote. And that's something we all should be very proud of!"
The 1683 Society Inc. is a Perth Amboy nonprofit organization dedicated to improving the quality of life and preserving our history in the waterfront area. The tree planting ceremony is a partnership between the 1683 Society Inc. and Mayor Wilda Diaz.