Press Release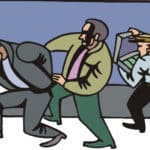 PERTH AMBOY – The purpose of this initiative was to aggressively and vigorously enforce any and all street level activity for the purposes of curtailing such activity by applying pressure with either arrests, summonses, and the offering of assistance for treatment.
The initiative started on Tuesday, February 7th, and was concluded on Saturday, February 11th, 2017, between the hours of 8 a.m. and 6 p.m. when heroin activity is most prevalent.  A total of 12-15 Officers were assigned and utilized for this operation.  A great deal of intelligence was gained during the initiative that will be extended to further longer term investigations in the near future.  Treatment was offered to every individual who any contact was made to in the form of dispensing of literature and even offers to physically transport them to a local facility.  This was met with great resistance and are hoping that the courts can step in during their respective proceedings to mandate treatment upon them.  The totals are as follows:
-A total of 50 arrests were made for a variety of offenses.
–52 decks of heroin were seized.
–105 grams of marijuana were seized.
–8 grams of cocaine were seized.
–27 oxycodone prescription pills were seized.
–6 hypodermic syringes were seized.
–3 crack pipes were seized.
–$330 in currency was seized.
The total street value of the narcotics seized is approximately $3,220.
This operation was deemed successful thanks to the hard work, diligent persistence and relentless efforts of the Perth Amboy Police Department, including Chief Roman McKeon, Lt. Carl Graham, Lt. Carmelo Jimenez, Det./Sgt. Gilberto Simao.