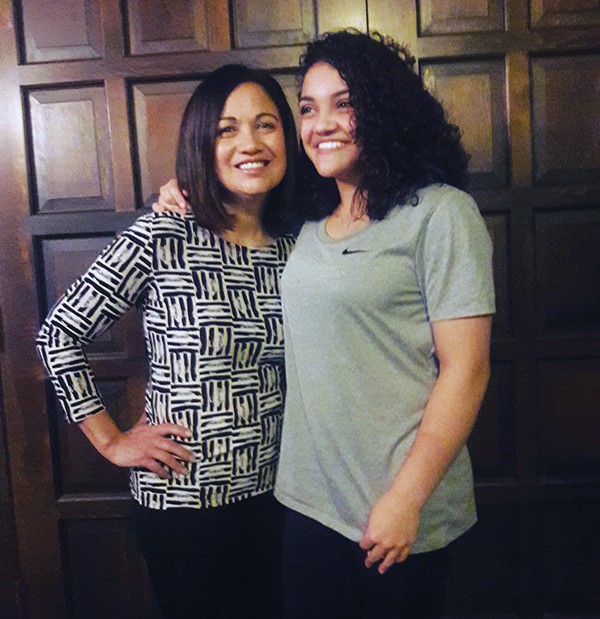 By: Carolyn Maxwell and Katherine Massopust
PERTH AMBOY – Laurie Hernandez and her mother, Wanda are two of the eight honorees at the Leaf Foundation's 2017 Red Carpet Gala. (See this issue's Editorial on the Leaf Foundation's Mission p.4.)
The Amboy Guardian had the opportunity to sit down with Laurie and her mother, Wanda in the Law Offices of Kenneth Gonzalez, Esq.
Wanda Hernandez is a social worker at Wilentz School.    She drew comparisons to her family values and how it relates to her work in school. She spoke about her family life, "We all inspire each other. We all work together – no excuses. Teaching and being patient helps children with different needs."
Wanda continued "I'm writing a book and I want to see how kids are reacting (to my philosophy of mentoring)" Wanda said, "Ask yourself: Am I doing my job as a mentor? You have to know how to set boundaries. Faith, family, education and character are important in family relations. You make sure you pray and are grateful. Try not to put blame on each other. You (as an individual) are very valuable. I'm grateful and honored and humbled for being given this opportunity. Do with what time that you have. Character is very important. We have to change our thinking in order not to repeat our mistakes. In my job, I welcome parents, teachers and students comments."
Laurie said, "My mom focuses on solutions to a problem."
Laurie talked about being very close to her siblings and how she is brought down to earth when she comes home. "Coming home has many childhood memories. No one treats me like royalty. I still have to do household chores and my homework. When I look at social media, I wish that the girls that make remarks on the internet were much kinder to me and each other."
Wanda said "Our family is very diverse. My daughter's fiance is Italian and my son's girlfriend is Slovakian so were able to experience all different kinds of foods."
Laurie said, "I never fight with my siblings. We learned to talk things out. My sister and I have mental telepathy. A lot of times when we are together, the same exact words come out of our mouths at the same time. One time at a store when this happened, the person who waited on us thought we practiced that. My brother  and I talk about what we're going to do in this world. I de-stress with food and music. I love bike riding and swimming." (The whole family loves to go bike riding in their free time.)
When Laurie was asked what inspired her to become a gymnast, she answered, "I saw Shawn Johnson on television. I said I want to do that! I wanted to be just like her!"
Laurie talked about the first time she went the Nationals and how she felt sorry for herself at the competition because she fell a few times. "My mother said: "Be grateful for every moment. Look at where you are. Others would be happy to be in your place.""
"I remember a posting my brother did when he was going to his prom. On one of the postings was a picture of myself and him. The picture read, "Posing with a future Olympian. – So he knew!"
Laurie stated that her favorite of the 4 events (Balance Beam, Vault, Floor and Uneven Bars) is the Floor Exercises. "I love music and love to dance. I do get a say of what music is used. I work that out with the coaches when we go to Gymnastics Camp in Texas."
Laurie's least favorite event is the Uneven Bars. "I had to work hard to build  those routines."
Laurie smiled about when talking  about a younger gymnast that she's very close to. "We are very protective of each other. We talk all the time."
"This year has been one giant whirlwind – a complete 180. I really enjoyed the opportunity."
Laurie loves to travel, "Outside of Rio, I loved Italy, especially Venice. I bought pizza. It was really nice. I would love to try skydiving and cliff-diving."
She talked about the fun and hard work she had competing on Dancing with the Stars. It  paid off when she won the Golden Trophy. "Every dance was different. One week was the Cha-cha; the next week it was something different. You had to adjust every week. I loved doing the Argentine Tango because it was out of my comfort zone. It was based on a scene from the play and movie Chicago. I visited the Broadway Play to get an idea of the dance. The judges were very sweet. I paid attention to Len the most."
Laurie became the youngest winner of Dancing with the Stars eclipsing Shawn Johnson for that honor.
Laurie lost her grandmother while she was competing on Dancing with the Stars. "She always kept a cross. I kept hers. I feel my grandmother's presence. She's never really gone."
"I'd love to become an actress. My favorite  celebrity is Tori Kelly because she radiates positivity like my sister. I'm trying to learn Spanish. In the Olympics it is nice to represent my Hispanic heritage along with representing the United States. I hope this motivates others to participate in sports. I like doing talk shows and I met part of the crew from the Law and Order TV Show. There's a chance I'll be in one of the episodes."
In the 2016 Rio Olympics Laurie Hernandez won the Gold Medal with the USA Team and a Silver Medal Individually on the Balance Beam. She is the Author of the book I Got This: To Gold and Beyond which was released 1/24/17. It became a New York Times best-seller. Laurie's advice to her mother who when writing a book is to do it at the end of the day so there are no distractions. "It's good to ask for feedback."
Laurie is presently a Junior in High School. She was accepted into the University of Florida but since she is now a professional gymnast, she cannot accept a scholarship in gymnastics.
"You can use college to help out. Keep an open mind. I love friends that I have now, but I'm looking forward to meeting new friends. When I start college, I'm going to try not to be too overwhelmed by taking too many courses."
"Laurie's message to boys and girls is: "Be confident. There's a difference in having confidence and cockiness. Cockiness means you think you're higher and better than everybody else. Be grateful. It can be taken from away from you in an instant."
For the future, Laurie hopes to return to the Olympics. "Timing is important."
She concluded, "My job as gymnast is to leave a mark for this generation, to go on and inspire others. You have to work very hard for things that you want. It's an honor to be here."