Set for June 11
Rabbi Ari Y. Saks Is Known for Community Engagement Both Within the Congregation and Throughout Central New Jersey's Faith Communities
Press Release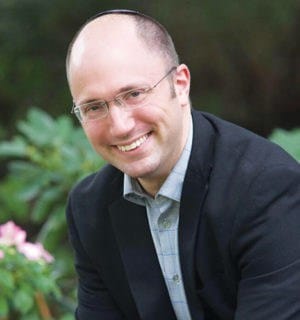 PERTH AMBOY – Congregation Beth Mordecai is hosting "An Evening Honoring Rabbi Saks" June 11 in honor of the congregation's outgoing rabbi.
The dinner is a special celebratory event to acknowledge Rabbi Ari Y. Saks' efforts in the central New Jersey Jewish community, the city of Perth Amboy and his work in many faith-based organizations throughout Middlesex County and Monmouth County.
"I will be forever grateful to Beth Mordecai for giving me — and my family — a loving Jewish community to call home over the past five years, while providing a platform for me right out of Seminary to share my Torah as a rabbi," Saks said. "I am deeply honored that in my final days as rabbi of Beth Mordecai, the congregation is taking a moment to reflect on the work we've done together to grow as a community, while using this opportunity as a springboard to continue its efforts in revitalizing Jewish Perth Amboy."
Since arriving at Beth Mordecai in 2012, Saks oversaw a 30 percent jump in the historic synagogue's membership growth, developing programming for young adults, teens, children, adults and interfaith families which attracted many throughout central New Jersey. Nicknamed the "Mall Rabbi" for his engagement efforts, Saks is known for his outreach activities in public places, holding a weekly "Ask the Rabbi" session in the Menlo Park Mall, Edison, food court and holding Torah study sessions in cafes throughout central New Jersey.
While serving as rabbi of Beth Mordecai, he took up mantles of leadership throughout the community, serving as Deputy Commander of the Perth Amboy Police Chaplain Corps, president of the Rabbinical Association in the Heart of New Jersey and as an alumni board member of the Chautauqua New Clergy Program. He is also a fellow at Rabbis Without Borders and a member of the Metuchen-Edison Area Interfaith Clergy Association.
"I want to thank Rabbi Saks for his five years of service and commitment to our congregation," said Alan Roy, President of Congregation Beth Mordecai's executive board. "He was instrumental in bringing new light, fresh ideas and enthusiastic leadership to the synagogue.  He's developed strong relationships with many people in our community and the greater Perth Amboy community as a whole."
An Evening Honoring Rabbi Saks will be held June 11, 2017, 4 p.m.- 8 p.m. at The Armory, 200 Front St., Perth Amboy. The evening will feature a three-course dinner, an ad journal and a raffle. Tickets are $49 per person. Kosher dietary rules are under the supervision of Rabbi Saks.
RSVPs are due to the synagogue office by May 31. For more information, including ticket and ad journal purchase, visit www.bethmordecai.org or contact the synagogue office at (732) 442-1373.