Yogi Berra Museum & Learning Center Celebrates Yogi's Birthday with Hackensack Meridian Health Raritan Bay Medical Center-Perth Amboy
*Photo Submitted by Raritan Bay Medical Center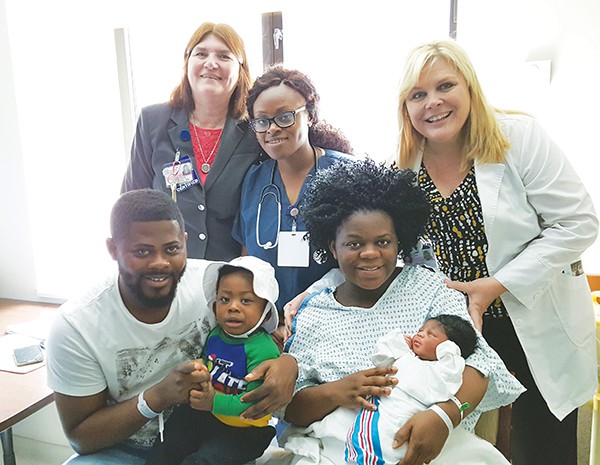 Photo Release
PERTH AMBOY – In honor of what would have been Yogi's 92nd birthday on May 12, the Yogi Berra Museum & Learning Center donated Yogi Berra Museum baby hats, along with free Museum memberships for the families of all children born that day at Hackensack Meridian Health Hospitals, including Raritan Bay Medical Center-Perth Amboy.
Pictured from left, (front) in the maternity unit at Raritan Bay-Perth Amboy, is dad Godfred Agyeri, his son 15-month-old Brian, mom Patience with newborn son Brandon. Pictured, in the back row, is Maternity Unit Nurse Manager Carolynn Kedzierski, R.N., nurse intern Oluwatomiwo "Tomi" Odefemi and Assistant Nurse Manager Lisa Ann Gernon, R.N.
The outreach effort is part of the Museum's mission to keep Yogi's remarkable legacy alive for a new generation of learners and leaders, both on and off the field.
"While Yogi is sadly no longer with us, the values that made him a national treasure – respect, sportsmanship, perseverance and excellence – are more important today than ever," says Eve Schaenen, executive director, Yogi Berra Museum. "Yogi's entire life represents a shining example of integrity, humility and unwavering kindness. With this gift we hope to see a whole new generation sporting Yogi Berra Museum hats in his honor."