Press Release 8/29/17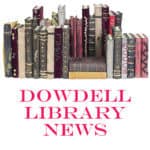 SOUTH AMBOY- Get back in the groove of the school year at Dowdell Library with free health screenings, culinary programs, bilingual storytimes, a local business breakfast and a banned book week contest.
Discover ways to stay healthy! Raise your awareness of diabetes, hypertension and preventative healthy living with a program presented by the North American Disease Intervention on Saturday September 9 from 1-3 pm. Get fit with health screenings provided by St. Peter's University Hospital on Monday September 25 from 5:30-7:30 pm.
Teens and Adults! Join us for culinary fun on Monday September 18 from 3-4 pm. Learn how to make a quick, simple and tasty rice pudding dish in just a few minutes – perfect for a last minute dessert when unexpected company arrives.
Enter the Banned Book Week Contest Monday, September 25 to Friday, September 29, and have a chance to win a prize! Simply, match the title of the banned book with the reasoning for its ban.  This annual event celebrates the freedom to read and highlights the value of free, and open access to information.
Business owners, join us for the city's business breakfast on Tuesday, September 26, at the Dowdell Library from 8-9 am for breakfast, networking and a demonstration of RefUSA. This free online research tool can be used to target customers, identify your market and create a marketing plan. This event is being sponsored by Masterpiece Mixers Paint & Party Studios on Broadway in South Amboy.
The Dowdell Library will hold bilingual math and science (MAAST) story times starting Wednesday September 27 from 3:30-4:30 pm. These storytimes will be conducted for children (ages 3-6) and their families in Spanish and English and will involve reading, singing, and hands-on creative projects. This program is provided by a grant from the New Jersey State    Library and the National Institute for Early Education Research (NIEER) at Rutgers University to host the Math and Science Storytime Series (MAAST.)
Music @ Dowdell is excited to present "Noisy Neighbors!"  This Mardi Gras inspired band will perform live at the Dowdell Library on Monday, October 2 from 6:30-8 pm.  Bring friends and family to enjoy an enchanting evening of Mardi Gras!
The origins of Mardi Gras can be traced to medieval Europe, but Mardi Gras was first celebrated in the U.S. by French settlers in the early 1700s.  Mardi Gras is about music and celebrations and masks are a magical part of Mardi Gras tradition.   The library will hold a "Maskarade" competition for the most intriguing mask.  Don't miss it!
To learn about upcoming library programs, sign up for the monthly eNewsletter at http://dowdell.org/newslettersignup.html
The Dowdell Library's hours are Monday, Tuesday, and Thursday from 10 am to 8 pm, Wednesday and Friday from 10 am to 5 pm, and Saturday from 12 to 4 pm. For more information, please visit www.dowdell.org, or contact the Library at 732-721-6060 or comments@dowdell.org.