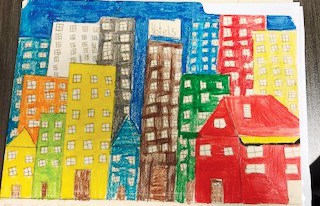 The American Institute of Architects New Jersey Chapter Celebrates Hispanic Heritage Month and Supports Hispanic Communities with  Bi-Lingual Career Day programs for children of all ages.
Press Release 9/23/17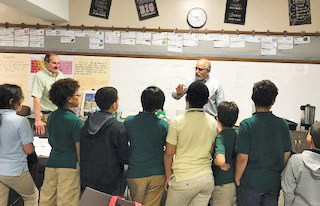 PERTH AMBOY, HARRISON & NEWARK – Local architect, Jose Gennaro, AIA, has been sharing his success story with Hispanic children across the region for over 12 years. His first presentation was at the request of a Perth Amboy teacher friend, Elizabeth Mazzeo, who thought his tale would be a valuable contribution to the Dr. Herbert N. Richardson 21st Century Elementary School Career Day.
Many of Jose's early programs were geared toward showing young, Hispanic students what opportunities for success are attainable, with focus and commitment. Having a professional role model from their own community showed all the children that no dream is too big, regardless of the career they were planning on.
As Jose looked to expand his school program, he started partnering with American Institute of Architects New Jersey Chapter colleague, Jerry Eben, FAIA. Together, the two AIA Newark and Suburban Section members could offer bi-lingual programs to a much wider audience.
Jerry had been presenting architecture programs to children for more than 25 years at that point. Rolling that experience into Jose's already popular program, the team had an even more remarkable impact than they had working separately, especially targeting schools with large Spanish speaking/ ESL populations that might otherwise not get great benefit from more traditional presentations.
Working together, the community volunteers have shared their message throughout the region including Jose's alma mater, Oliver Street School in Newark as well as Washington Middle School in Harrison. The majority of their partnered sessions are requested in the spring by schools that feature career discussions, but they try and respond to all requests, year-round. They travel most anywhere that they are asked. If they are not available to attend themselves, they will seek out a willing AIA colleague from the school's local community.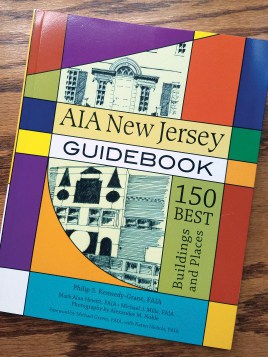 Jose likes sharing his trade best with 3rd-5th graders, while Jerry finds 6th-8th grade most rewarding, but they have presented to all ages, K-12! Most presentations are about 20-30 minutes, with renderings, perspectives, blueprints and photographs circulating around the room. AIA Newark and Suburban has also provided giveaway items, such as pencils, with the section name embossed on the side. The kids especially love to check out traditional drafting tools and hear about the transition from drawing by hand to CAD.
The architects share ideas on the best classes to take in high school to prepare for applying for an architecture degree in college, the basic process of licensure, what a day is like in an architectural firm and other career statistics. They discuss building types and what it's like to run a project.
But even more important than encouraging kids to become architects, the men seek to enlighten the kids into acting as Citizen Architects, being aware of the buildings in their own communities, respecting their environments, and understanding the value of good design.
Jerry always tries to get the kids engaged in building human flying buttresses with two tall children & two small children. When he asks where they have seen this around the neighborhood, he always gets a correct answer from a few: "The church around the corner!" He recommends that everyone "LOOK UP" and see the architecture they interact with every day.
The program is so well received that most schools ask them back year after year.  They have received pictures and thank you notes from the kids.
Jerry recommends the book EXPERIENCING ARCHITECTURE by Steen Eiler Rasmusson and would love to encourage all schools to order a copy for their library.
Jose suggests the AIA NJ Guidebook to 150 BEST Buildings and Places as a great resource for local kids to find interesting architecture, no matter where they live. Schools can order this great book by searching this info: ISBN 10: 0813551269  ISBN 13: 9780813551265
Publisher: Rivergate Books, 2011.
AIA NJ welcomes all New Jersey Schools to include lessons on architecture in their plans and reach out to us to bring a free program in-house. AIA NJ can be reached at info@aia-nj.org.
AIA NJ
Trenton, NJ www.aia-nj.org info@aia-nj.org
Submitted by AIA NJ Advocacy Consultant staceykliesch@gmail.com