Whether it's a person acting alone or associated with a group, it's an act of evil when take the lives of innocents. When attacks like this happen, you automatically think of the police are the first line of defense. Before the police had a chance to arrive, the first line of defense were the concertgoers. When they realized it wasn't firecrackers but actual gunshots, those people in attendance used their bodies to shield others.
What I listened to on the radio were eyewitnesses who told their tale of horror. One woman who was there with her friend both laid down as instructed and before they knew it, there was a man on top of both to protect them from bullets. People took off some of their clothing to use to stop the bleeding on the wounded. There were people driving by who had no idea what was going on. EMT's stopped these motorists and asked if they could help some of the wounded to the hospital. One of these motorists said, "Yes, put as many as you can into my vehicle." There are the lines around the hospitals in Vegas with people waiting to give blood.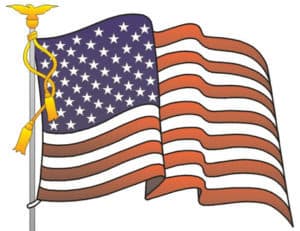 This is what America is about to me: the good in people. When I look at the American Flag and hear the national anthem, it's a very moving experience. I know about some of the words of the third verse is considered racist, but remember when that was written and there is a reason we don't sing that verse because as time goes by, and the tenor of the people changed, that verse no longer was relevant.
I am going to tell you a true story of how people from other countries reacted to tragedies in the United States. I used to sponsor a little boy in Africa through a well-known charity. Occasionally, the family would send me updates to let me know how much my donation helped. The reason I bring this up is because in early October of 2001 I received a sympathy card from this family. I was puzzled because I did not suffer a loss in my family. At the end of the sympathy card it was to express their heartfelt sadness on the lives that were lost on 9-11-01. You see, they considered those lives lost as part of my family.
This says it all. They considered everyone in the United States as one big family. Thus, those lives lost were part of my family. C.M.