Top Chefs, Bakers and Food Crafters Creating
Superb Cuisine for 2017 Taste of Perth Amboy
Sample City-by-the-Bay's Finest Fare on October 19 from 6 PM to 9 PM Aboard Cornucopia Cruise Line's St. Charles Vessel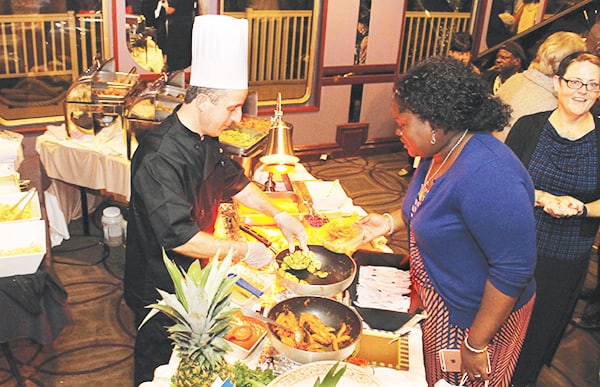 Press Release 9/29/17
PERTH AMBOY – Join friends, neighbors and business associates for Taste of Perth Amboy 2017 that will be held on Thursday, October 19 from 6 to 9 PM. The 2017 Taste returns to the Cornucopia Cruise Line's St. Charles vessel that is docked at 401 Riverview Drive.
On this year's Taste menu is a delectable sampling of Latin and international cuisine from 25 local restaurants. In addition to the restaurant fare, the City-by-the-Bay's leading bakers, food crafters and caters are preparing specialty items to serve the hundreds of guests expected on board.
The chefs are cooking an assortment of appetizers, entrees, and desserts as well as specialty refreshments. Guests will see chefs and food purveyors creating amazing displays of food at their serving stations. Everyone is going to marvel at the imaginative ways they combine colors, shapes and textures that definitely please the eye and when tasted, melt on one's palate.
All proceeds from the Taste of Perth Amboy will be donated to the City's Free Public Library.
Perth Amboy, Mayor Wilda Diaz and the City's Business Improvement District (BID) are hosting 2017 Taste. BID Chairman Barry Rosengarten and its Board of Directors are encouraging still more City restaurants to join in the evening of food sampling and fun. For more details, contact the BID office by calling 732-442-6421 or 732-826-1690, ext. 4050 or by email at PerthAmboyBID@gmail.com.
Tickets to 2017 Taste of Perth Amboy are now available on line at Eventbrite (https://www.eventbrite.com/e/taste-of-perth-amboy-2017-tickets-37767149561). The cost is $30 for adults and $15 for youths under 17 years of age.
The BID's Executive Manager Junel Hutchinson said, "Our Taste event is created for everyone who loves food and enjoys dining out. You and your friends can experience the creative cuisine, cooking, baking and food presentation from Perth Amboy's top restaurants and food purveyors. We are also providing music, entertainment and more, so please join us for a memorable evening that also benefits our beloved public library."
A group of judges will sample the cuisine, select the best and award trophies. The Taste of Perth Amboy honors include the "Best Taste," "Best Dessert," and the coveted "People's Choice Award."  Mayor Diaz will present the trophies to the winners.