As Tony the Tiger Would Say: "Great!"
Helpful Fans Sing The National Anthem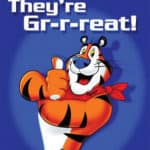 Tony the Tiger (right) has been featured on a cereal box for many years, so we thought it was apropos that we recognize those who rethink and embody the spirit and the words of that logo. I have a good friend who sends me emails, especially when it shows people displaying patriotism and their love of their country.
Two such events happened at hockey games. There was a teenager, Lauralie Mufute, who was performing the national anthem at a New Jersey Devils Game. She had done so before at this arena without any problems and even had rehearsed that evening before game time. When it came time for her to perform, during the beginning of the second stanza, she suddenly lost her concentration. She started again singing from where she left off, and the same thing happened. Fortunately, the crowd was singing along with her. When they realized she was having trouble, they began singing the national anthem loudly from where she left off, completing it and cheering and clapping at the conclusion.
At another hockey game, Joe Everson, who performed the national anthem while painting on a canvas at the same time. At the conclusion of the national anthem, he rotated the canvas and the finished product displayed the scene from when our soldiers raised the American flag at Iwo Jima.
After viewing both videos, I passed them onto others with the simple word: "WOW!"
The video with the young lady singing is on the NJ101.5 website. If you Google Speed Painter/Artist Joe Everson, you can see him performing.
If interested, please check them out. C.M.