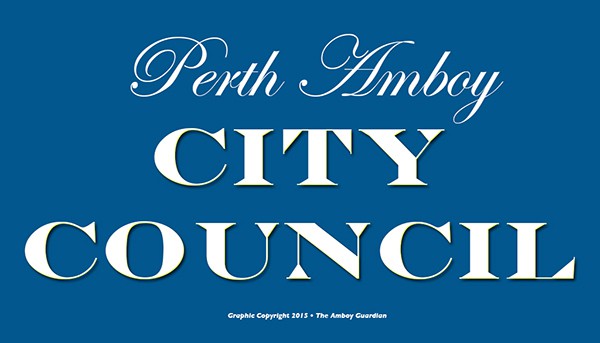 11/20/17 Caucus and Council Meetings
PERTH AMBOY – Ordinance No. 1 – First Reading: Regarding Amending Ordinance – 723-2014 – Renovations to the Perth Amboy Public Library, County Middlesex, NJ. Total appropriation of $2,799,570.00. – Councilman Joel Pabon had remarks, "We need a new library. This is a very congested area. We need a state of the art library. How much of this amount will we get? How much for the addition? And what will be the final result? At 4 a.m., we still see homeless people on the steps. I don't see that many kids going to the library. I would have a concern as a parent of the present appearance."
Business Administrator Adam Cruz responded, "We're adding additional funding for cost not covered."
Councilman Irizarry then questioned, "Is this in response to something that happened before? There are a lot of subtotals (on the paperwork). Do they apply to this ordinance?"
Petrick responded, "It adds to the existing ordinances."
Cruz then commented further, "Some of the cost will be for experts to review the library plans and some change orders."
CFO Jill Goldy came up to add further explanation, "The capital budget was prepared and adopted. The capital budget had to be amended for the library project changes."
The next question pertained to Ordinance No. 2 – An Ordinance to amend an Ordinance entitled Fixing and Establishing a schedule of salaries and salary ranges in increments for Officers and Employees of the City of Perth Amboy. Re: Management and Non-Union – deleting title of: Zoning Board Attorney.
Law Director Peter King explained, "The Zoning Board Attorney can't be a City Employee. They are independent contractors. The Council appoints the Zoning Board Members. In turn, the members hire their own attorney."
Business Administrator Adam Cruz responded to a question re: R-445 – 11/17 – A change order to the contract with B&W Construction Company of New Jersey. Increasing the contract for emergency repairs for the collection system not to exceed $160,000. Cruz explained, "This is in case for any water pipes bursting and sewer repairs."
Luis Perez Jimenez, Director of Operations at the at the USA-PA (Utility Service Associates Perth Amboy) Middlesex Water Company) came forward to add additional information. "This amount includes repairs already done, future repairs, and continuing maintenance."
The next person who came up to speak was Deputy Police Chief Larry Cattano to answer questions about R-448-11/17 – Purchasing one 2017 Ford Police Interceptor Utility Vehicle from Beyer Fleet in accordance with the Cranford Co-op Pricing System. Sum in an amount not to exceed $29,136.75. "This is to replace a 2016 similar vehicle that was totaled in an accident."
Cattano then answered questions pertaining to R-449 – 11/17 – Payment of yearly stipend to the PA Auxiliary Police in an amount not to exceed $39,968.50. And R-450 – 11/17 – Authorizing payment of a yearly stipend to Volunteer Firefighters for compensation for losses while performing volunteer duties in direct proportion to their activity level in an amount not to exceed $35,933.60. Cattano explained, "99% of the time, the Auxiliary Police are scheduled, and they only respond to fires on an as needed basis. For instance, if they need someone to direct traffic."
The next question pertained to R-454 – 11/17 – Authorizing the Planning Board to investigate properties located at 380 Market St., 382 Market St., and 259 Bertrand Ave. should be designated as an area in need of redevelopment pursuant to the local Redevelopment and Housing Law.
Business Administrator Adam Cruz spoke first, "The property owner asked us to reconsider."
Councilman Joel Pabon spoke up, "A nearby business doesn't know this is going on."
Council President William Petrick replied, "They do not have to be notified."
Councilman Irizarry then wondered, "What's going to happen to this property?"
Law Director Peter King responded, "It's no different than what's happening to the Greek Church Property." The next Resolution in question was R-455 – 11/17 – Authorizing submission of an application to the (USEPA) Environmental Protection Agency for the Brownfield Community Assessment Grant. William Kurzenberger, Program Coordinator, Office of Economic and Community Development came up to speak, "It's open and there's no specific property. We will look at all available brownfield properties. The public can recommend what they want. There's $200,000 anticipated for environmental improvements. Rutgers did a walkthrough as well as the NJEPA. The degrees of contaminants are unknown."
Pabon then questioned, "Can this money be used to demolish any environmentally hazardous buildings?"
Kurzenberger answered, "No."
There were then questions on R-457 – 11/17 – A contract with the Boys and Girls Club for the Project Learn Program in the amount of $16,000 in accordance with the 43rd Program Year of the Community Development Block Grant.
Councilman Irizarry said, "According to what it says on the additional paperwork, where there is a whereas clause, it says this is a detention prevention program. Is this a typo?"
It was determined that this was a typo.
CEO of the Boys and Girls Club Brian Taylor came up. "Some of the funding will go to compensate the staff that puts in 15 to 20 hours a week. Some of what we do is helping with homework, tutoring, and extracurricular work and activities. We have a workshop for parents to attend to help their children succeed. We are an extension of their family. The Board of Education allows us to use the Ceres School."
Next, there was a question regarding R-548 – 11/17 – Authorizing the proper City Officials to execute a contract with the Jewish Renaissance Foundation for Civic Justice Corps in the amount of $40,000 under the CDBG.
Cheri Goldberg from the Jewish Renaissance Foundation came up to speak, "This program has been in existence since 2010 and it's for ages from 16 to 26. It helps these students with academic instruction to achieve their high school equivalency. The funds will not be used for salaries. The students who attend receive $15 a day. They are charged a $50 testing fee. The Board of Education contacts us about any students who are about to drop out (of high school). Middlesex County College is also involved, and tutoring is available. If the student has not passed (the required testing) after 4 months, they are eligible for tutoring. 280 students have participated since January 2011. Not every kid is equipped to go to college. We can have up to 24 students enrolled at one time. Usually there's group of 12 students. As soon as a student graduates from the program, another student come in. They attend the program Monday thru Thursday from 9:45 a.m. to 3 p.m. Career services are also offered. Rutgers, Middlesex County College, and Berkley College have formed partnerships with us. Some of our students are strong in Math and Medicine and go into those fields. We have referred a small amount of students to the PRAHD Carpenter Apprentice Program."
Deputy Chief Cattano came up to speak about R-461 -11/17 – Approving participation in a Safe and Secure Communities Program Grant in the amount of $60,000 administered by the Division of Criminal Justice and the Dept. of Law and Public Safety. "This money can only go to the Officers' base salary. There are 3 grants of $60,000 each waiting for us. To get and keep this grant, we have to have a minimum number of Officers on the Force."
During the public portion, Resident Ken Balut came up to the podium and reached out to give Councilman Helmin Caba a report on an OPRA request regarding information on the e-port PILOT. Balut asked Caba, "Can you see the difference between the school system and what the City's taxes are according to this printout?"
Caba replied, "It's small print and it's hard to read."
Balut responded, "If you guys can't read it – how is the public supposed to know?"
When Council President Bill Petrick was handed the report, he said, "I could just read "Beneke Economics.".
Councilman Fernando Irizarry then said, "I need more time to look at it."
Balut then concluded with, "At 7 p.m. when the Regular Council Meeting is held, maybe you can tell me the information."
Resident and Businessman David Caba came up next. "The Police Chief admitted that I was right about the crime stats, but didn't break it down. At a previous meeting, Chief McKeon said the crime is not the administration's fault. Why do we have a chief and administrators? There must be accountability. Why have these directors if there's no accountability? I want all of the Council on my side." Caba then directed the following remark to Councilman Irizarry, "After that small part of Rector Street is done (between Washington and Commerce), I'm going to ask that it be called the Caba & Irizarry Way."
Resident Sharon Hubberman came up. She mentioned, "I talked to someone in another town about their Community Block Grants that they received. That person told me they do follow up on the grant recipients and do reports. What if any portions are used for salaries?" She also had concerns about animal safety. "Are we investigating a matter that may have violated New Jersey State law?"
The last person to speak was Resident Alan Silber, "Nobody from the library is here to answer questions. A woman who was on the Board of Trustees was replaced by the Mayor. The public has a right to be heard. No one should be allowed to use electronics in the audience as well as the Council and administrators (during the meeting)."
Councilman Fernando Gonzalez was absent for the 11/20/17 Caucus portion.
During the 11/20/17 7 p.m. Council Meeting which was held later the same day because of the Thanksgiving Holiday, the first person to come up to speak was Ken Balut. He wanted to know if the Council Members had any answers to the printout of the OPRA request previously given to them suring the Caucus regarding the E-Port PILOT.
Council President Bill Petrick replied, "There are possibly two other sheets that are missing."
Law Director Peter King added, "That was the most comprehensive information available and I will get you more detailed information."
Balut continued, "You (the Council) are supposed to be transparent and you don't know what's going on." He also asked, "What are they going to do at 382 Market St.?" He then questioned some of the facts behind crime being committed in the City. "If all these people know each other that commit crimes, then most of these crimes would be solved. It all boils down to the Police Director. No one is here to answer questions."
Resident and Businessman David Caba came up next, "We do research. I'm not saying all police are bad. Who has accountability? Who's in charge? People only show up when it affects them."
Alan Silber came up next. "In some of the ads for the 2008 election, the Mayor (Joe Vas) had said that he added up to 10,000 jobs at the time." Silber also questioned, "Is 380 Market St. in need of redevelopment? We always have to amend the ordinance on employee salary guidelines."
Sharon Hubberman came up to speak about the library, "There's no access for handicapped people. There's a performance bond attached. If you don't have one, you may have to go to court. In the last election, there was a joyous caravan going around, but this was in violation of the ordinance. Those laws were enforced on only certain candidates."
Resident Vince Mackiel talked about the shelter situation. "I attended the South Amboy Council Meeting about the same thing. The Salvation Army has been valuable in serving those people (the homeless and downtrodden). This town (Perth Amboy) has a lot of services connected to health services. I wrote a letter to President Trump (see page 4)about the concerns of people who may lose Obamacare." Mackiel concluded with, "Let's get on with the construction of the Tennis Courts."
During the Council Comments, Helmin Caba said, "I would like to see a list of the PARA projects, past, present, and future."
Councilman Fernando Gonzalez said, "It's important to pay attention to the zoning changes on the Focus 2000. There is a lack of knowledge in the community and the future plans for the City. Please read that document which will generate many questions."
Councilman Irizarry said, "We need to prepare for the 2020 Census." He also mentioned about the opioid epidemic in the State and in the Country. "Prevention, education, and treatment are important. The Police Department is involved with educating fifth graders. How do we address the treatment? Other towns are doing this with certain programs. We have a hospital with other cities don't have. This is not political. Lives are at risk. I'm asking the administration to look into this."
Councilman Joel Pabon said, "I may have talked too early about praising the work done on Hall Avenue. Cortlandt Street wasn't touched. Only half of the street on Hall Avenue was done. We also have a machine that takes care of our street signs (permanent signs declaring alternate side of the street parking for cleanup). We need to take care of what we promised the people, instead of being concerned about flag poles."
Council President Bill Petrick said, "Remember those not home and that are serving overseas for the holidays."
For R-444 thru R-453, R-455 thru R-461 was moved by Councilman Fernando Irizarry, Seconded by Councilman Helmin Caba. R-454 was pulled.
For the Bond Ordinance No. 1 – Capital Improvements and Bond Ordinance No. 2 – Providing of the Cleaning of Interceptor Mains of the Water/Wastewater Utilities and Ordinance No. 3 – Bond providing for various improvements to the Water/Wastewater.
For the adoption of these three ordinances: No. 1 was moved by Irizarry and seconded by Caba. Irizarry abstained when voting. No. 2 was moved by Irizarry and seconded by Caba. No. 3 was moved by Irizarry and seconded Pabon.