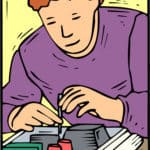 The first Saturday after Thanksgiving is nationally known as Small Business Saturday. Shoppers are asked to purchase goods locally. As a non-driver, the majority of my purchases are local. I'm not really a fan of mall shopping, because at a previous job I would take public transportation where I would be dropped off at a mall and it became very monotonous. I know people are very fond of mall shopping, especially when it comes to purchasing the latest technology such as the I-Phones. I can't understand the logic of standing in line for hours (some people even pay people to stand in line for them to purchase the latest versions). And what happens? The manufacturer was so adamant to make sure the product was launched on a specific date, even though (I believe) they knew all the bugs were not ironed out.
How frustrating is it when you have to turn in old equipment to a national chain store that happened to be in a mall only to arrive and find out that they have moved. So, you figure: "Oh, they have the same company that's located in the parking lot of the mall, but that location could not take the equipment. Then you have to go to another location to turn the old equipment in.
Personally, the last couple of cell phones I have bought were at a T-Mobile Store at 182B Smith Street and I have been very happy with the product and especially the employees. Sometimes if I'm having a problem with the phone, I'll call up customer service and they've been able to solve the problem.
Recently, I had a huge problem and was on the phone with customer service for about 15 minutes. I told the technician if he could text me the instructions because I didn't have a landline available. If those instructions were not followed to a tee, I could have lost a lot of information. So, I decided to go down to the T-Mobile Store on Smith Street and I mentioned my problem to an employee named Stephanie. I showed her the instructions from the technician that I spoke to on the phone. She looked at them briefly and said, "I think I can fix it without going through all of this."
As I was glancing at other products at the store, in less than 5 minutes Stephanie called me over and said, "I fixed it."
Let me tell you something: I was very impressed.
She also told me about another more advanced phone that would cost me less than $10 more. I was just out downtown for a minute and told her that I wasn't intending to do any more shopping, so I told her I would come back in a couple of days.
This is what customer service is all about. Many times, when you go shopping at big chain stores where there are a lot of people, it's sometimes very hard to get personalized attention. Stephanie saw how upset I was with my phone not working and the possibility of losing vital data. She knew exactly how to calm my nerves. Something told me my phone would be in good hands.
There was another experience I had locally when I went to Supremo Supermarket to pick up a couple of items. At the time, there weren't many customers at the store. When I went to check out, the cashier looked at me and said I looked a little tired. I answered her, "That's exactly how I feel. It's been a hard day."
She said she knew the feeling because not that long ago she had fallen on hard times for 3 months and she was happy about having this job. I left her with, "Have a Happy New Year and God Bless You."
I know there are people who talk about bad experiences they've had locally and so have I. But, it only takes one or two people who can let you know how kind people are.
So, I want to recognize the two special young women from Supremo and T-Mobile who know the correct way to interact with customers. I believe they'll go far. C.M.