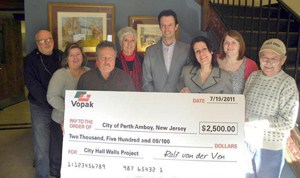 PERTH AMBOY— Mayor Wilda Diaz announces the completion of Phase 1 of the Perth Amboy City Hall Wall Project initiated by the Museums of Perth Amboy committee (MoPA).
MoPA's committee efforts have gathered to unite all historic society groups in Perth Amboy to form a historic tourism committee and to assist in preserving Perth Amboy's 329 years of existence and its foundational importance in the history of the United States.
The committee's first official project began with backdating the Market Street foyer entrance of City Hall to fit the historic character of the building. Built in 1717-1718, the structure is known to be the oldest City Hall in continuous use in the United States and where the State of New Jersey became the first state to ratify the Bill of Rights.
This project was supported by Vopak, Perth Amboy's newest industrial resident, the world's leading independent provider of bulk liquid storage facilities. During a welcome meeting in last July, Ralf van der Ven, Director of Business Development for Vopak North America presented Mayor Wilda Diaz with a $2,500 check to fund the City Hall Wall Project.
"I look forward to Perth Amboy becoming a New Jersey historic destination as it is one of oldest cities in the State. These beginning efforts for our MoPA committee are significant to the overall goal of preserving our City's history and displaying it for all to visit and enjoy," said Mayor Wilda Diaz.
Committee members, lead project coordinator, Kathy Depow representing the Ferry Slip Museum and Ralf van der Ven will be officially recognized during a March Council Meeting and ribbon cutting ceremony for their efforts on the completion of this unique restoration, including the installation of an old-fashioned chandelier, a retro-fitted directory, the re-painting and stenciling of walls and stairwell by local, artist Thomas Ward and framed lithographs of historic Perth Amboy, one of which was donated by Municipal Clerk, Elaine M. Jasko.
Since its establishment, MoPA has worked toward locating State funding from the 2009 Historic Preservation Fund, where an assembly bill was prepared to in order to restore several historic sites in Perth Amboy, including the Proprietary House, the Royal Governor's Mansion located on 149 Kearny Ave. In addition to these plans, a MoPA member will be included in the Surveyor General's Building museum conversion project soon to be executed later this year.