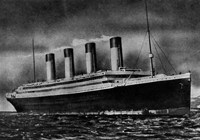 SOUTH AMBOY – There will be a program on the Titanic: The Latest Chapters at the Sadie Pope Dowdell Library on Monday, March 19, 2012 at 7:00 p.m. This interesting program will be highlighted by author Charles Haas – who will takes us aboard the lost liner to discuss the 1985 discovery to the present day. Find out about the artifacts that were recovered on recent expeditions, the identification of the unknown child, and the last survivors.
April 2012 will be the 100th Anniversary of Titanic's sinking. Commemorative events are planned around the world.
For more Info call 732-721-6060 comments@dowdell.org.
The Dowdell Library is located adjacent to the South Amboy High School.
Sponsored by the Friends of the Dowdell Library