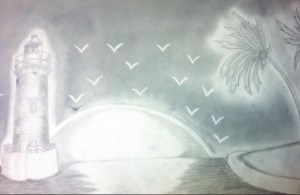 Artwork From The Accelerated High School And Adult High School Students Of The Adult Educational Center In Perth Amboy At The Raritan Bay Coffee Company
PERTH AMBOY — Students from Visual Art classes were asked to create a composition of the Great Beds Lighthouse. They researched its history and geography using their creativity to came up with their own designs. The Great Beds Lighthouse was one of the earliest cast iron towers in New Jersey. It is located in South Amboy and can be seen from the Perth Amboy waterfront by the Raritan River.
The exhibition in the Raritan Bay Coffee Company is located at 233 Smith St, inside the historic Perth Amboy train station. The opening reception is March 15, 6:00 to 8:00 p.m.. free parking after 6:00 p.m. For more information please call at 848-203-3432 or to art teacher Olga Bautista at 732 376-6244. Exhibition is free and open to the public.
Photo of artwork courtesy of Olga Bautista