$191,600 Granted to City of Perth Amboy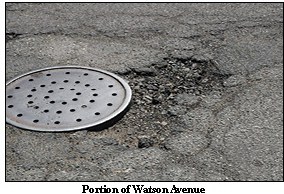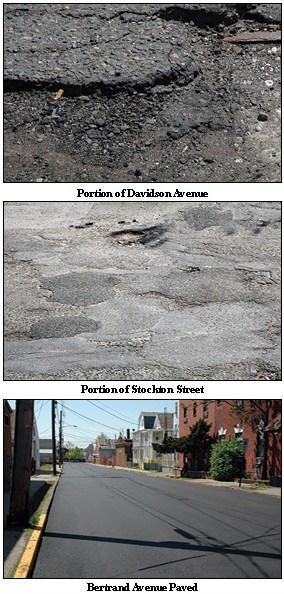 PERTH AMBOY – On the Agenda of the 4/4/12 Council Meeting it was noted in the communications that Governor Chris Christie advised the City that it has been selected to receive funding from the NJDOT (New Jersey Department of Transportation) Fiscal Year 2012 Municipal Aid Program for the following streets: Watson Avenue, Davison Street, Bertrand Avenue, Gifford Street and Stockton Street for road improvements.
In the 2/29/12 issue of the Amboy Guardian, Director of Public Works Frank Dann gave a detailed analysis of some of the worst streets in the City and Watson Avenue was one of several streets mentioned.
All of the streets mentioned not only have severe deterioration, they pose danger to vehicles and walking hazards to pedestrians due to unevenness of the surfaces. The new hotbox machine was delivered several weeks ago to do repair work on McClellan Street.
The funds received for the five streets can be used for milling the surfaces, base repair and for curb replacement.
Bertrand Avenue was stripped on Thursday, April 19 and paved on Monday, April 26. The County posted notices on the poles and the roads were paved the next day.
"It's a positive thing for the City of Perth Amboy, especially since it is an entry way into the City. The City should always be well dressed," states Israel Varela who owns Unitech Auto on Bertrand Avenue "The road was so poorly kept because of heavy truck traffic on that particular street. I am so glad that the County decided to do that street. People were happy it was done," Varela states.
The remaining marked streets will be paved shortly.