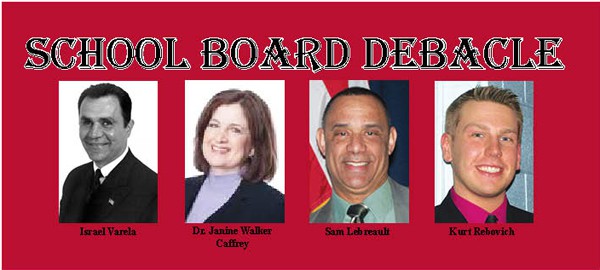 Board Member Israel Varela: Message to Superintendant Janine Caffrey – Prove Your Allegations or Resign Immediately!
PERTH AMBOY – In an exclusive interview with School Board Member Israel Varela said he puts his money where his mouth is."What is the most important to me are the students, community and school staff," states Israel Varela. Varela was responding to the allegations brought up by the Superintendent accusing him of going to her to try to place his friends in jobs in the school system.
"If Dr. Caffrey could produce evidence of this infraction I will resign immediately. If not, I think she should resign effective immediately."
Varela also stated that Dr. Caffrey has been misinforming the public. He named one case in which the Superintendent claimed that an employee of the school system was on drugs and because of tenure she was not able have her removed. "First of all if someone is on drugs they must be taken to the hospital and it has to documented and those documents must be brought before the Board. Again, show me the proof, Dr. Caffrey! (The documentations of this occurring.) And again I will resign immediately. If not, you need to leave!"
"There was also an incident where a staff member reportedly washed out a student's mouth out with soap according to Dr. Caffrey which turned out to be totally untrue." Varela stated that this incident occurred two years before Caffrey was hired, "And I knew who the educator was that was falsely accused. As a matter of fact, this child was acting up in school and the students grandfather showed up to the school to see what the problem was. After being told about his grandchild's being disrespectful in class, the grandfather proceeded to take something out of his pocket and put it in the child's mouth which turned out to be a small bar of soap. This action was done so quickly that the teacher did not even notice it. The teacher was not aware of what was actually put into the child's mouth until the object was spit out by the student. If we Board Members did not find out the truth, that teacher would have been fired. This was just one instance of a case that Dr. Caffrey jumped the gun and was about dismiss an educator before finding out the facts."
"Money is not being spent wisely. Dr. Caffrey should take a look at what programs are currently being used to educate our students and see if they can be updated instead of displacing them completely with brand new ones."
"I do not view Dr. Caffrey as constantly going to the media as being professional."
"Some school employees are threatened when they open up to Board Members and they are the ones that will give you the most vital information when it comes to looking out for our children. I also had a problem when it came to positions in the schools opening up and why there were not many candidates applying for these jobs. There have been people employed in the school system for years. When they put in an application for an open position they are not even considered. Even if they are considered qualified."
"I ask a lot of questions at the School Board Meetings because of I am wary of voting on agenda items if I do not have enough information to make a informative decision. The Board is not beholding to the Mayor or Superintendant."
Varela also was disappointed in Mayor Diaz supporting Dr. Caffrey without having all if the facts that the Board of Education Members are privy to. "As for fellow Board Member Kurt Rebovich (who is also came out in support of Caffrey) – he was a fanatic about former Superintendent Rodecker and he feels the same way about the present Superintendent and that is his right."
"Many teachers and other staff members work a lot of unpaid overtime. Instead of taking into consideration how much overtime a person puts in, Dr. Caffrey would deduct from a staff members' pay if he/she was late. I was not part of the interview process when the school board members were interviewing candidates to replace outgoing Superintendent Rodecker's replacement. Although I felt that Dr. Caffrey was not the one for the job. Even Sam Lebreault thought she was a good choice."
"The new Board Members look at the Veteran Members for guidance but it is up to them to research the facts for themselves. We also respect and listen to each other remembering to let each member finish their thoughts before we even rebuttal what they say."
When questioned about the closed sessions that seem to take such a long time Varela explained, "Basically when we go into closed session any Board Member that has concerns about agenda items, they use President Sam Lebreault as their spokesperson to ask questions to the Superintendent, Board Secretary, or Lawyer."
"Board Vice President Ken Puccio because of his work with the juveniles as a member of the police department is very concerned about the bullying situation whether it be against our students or staff members."
When asked who initiated the charges against Dr. Caffrey? "The personnel committee are the ones who started the ball rolling that Dr. Caffrey's contract be terminated. The lawyer then contacted the rest of the Board Members with a phone call. Then follow-up information was sent out. The School Board had met with Dr. Caffrey initially to discuss some of her aggressive behavior to see if some improvements could be made. When they saw that there was not much improvement in her actions they started to look into terminating her contract. The deciding point was her constantly misleading the community and she is a very aggressive, and negative and does not extend the same courtesy to others as she receives. If Caffrey doesn't like you she'll be on you like an angry beaver!"
"The teachers are retiring because of her and this is causing us to lose valuable experienced staff members. The teachers are losing their enthusiasm over pettiness. The children were always first with former Superintendent Rodecker. I never disrespected Mr. Rodecker and he would never go after the school staff like Dr. Caffrey does especially the way she goes to the newspapers to try to intimidate the Board. I have to say that the High School Principal Dr. Nestor Collazo was a very good choice and is very pleasant to work with as is Dr. Vivian Rodriguez who is also a very respectful person."
"A good leader, leads by example – not by force. The Board Members ask questions and we cannot move forward if we have another dictator like former Mayor Joe Vas."
When the Amboy Guardian questioned Varela about speakers on the City Council who asked questions at the School Board Meetings Varela answered, "Everyone has a right to speak at Board Meetings but not for political reasons. It was because of politics that a new school wasn't built under Joe Vas. Sam Lebreault, Kenneth Puccio or myself were not asked to be present at the Council Meeting when they were discussing Delaney Homes as the potential site for a new High School – which I thought was unethical. I do not feel that Delaney Homes is the best place to put a school and we are trying to be very careful with taxpayers money.
In the beginning I was the only one who criticized Joe Vas and I and my family suffered because of this. It seems that the same thing might be happening again. Let's not let the situation get out of control. City Hall has all the documentations that is needed about what is going on at the Celotex Property but right now we want to resolve this problem with Dr. Caffrey. Morale is down."
"As far as Sam Lebreault and the investigation into the School Lunch application," Varela said, "Anyone who has a child in the public school system is sent forms to fill out and one of the those forms includes an application for a free or reduced lunch program. It is the parents purgative to turn it in or not. The Lebreault's application was turned down and they are grasping at little things to try to blow them up."
When asked, Board of Education President Sam Lebreault stated that, "On Wednesday, April 25 we will be going into a closed session immediately to discuss personnel matters which I cannot comment on."
"A lot of people are jumping the gun. Nothing was said yet at a meeting."