By Beverly Samuelson —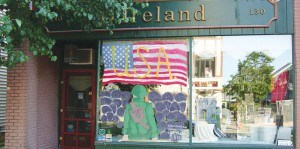 SOUTH AMBOY – South Amboy started summer with a fun filled day for all. The festivities began at the plaza on Broadway. Camille Tooker, the City Business Administrator started the day off with the Pledge of Allegiance, then the recording of the Star Spangled Banner sung perfectly by the late Whitney Houston.
The first event was the Pizza Eating Contest, with pizza from SA Pizza. There were 10 contestants all hoping to win the $100.00 prize. On the count of 3 everyone opened their pizza box and the eating began. It was a close contest and Matt Beers was the victor and the winner of the prize. Matt is also known around the Rutgers Campus for his Elvis impersonation.
Next up was the Patriotic Pooch Contest. The 3 finalist were Luna Bell, Max and Nalla. First prize was $100.00 and an artist painting of the dog. 2nd prize was $50.00 and 3rd prize was $25.00. It was a hard decision as all the dogs were beautiful, but the crowd all gave the biggest and loudest cheer for Nalla who won first prize, Max came in 2nd and Luna Bell 3rd. All 3 are great dogs and made their owners proud.
The next event was the parade which started at the Knights of Columbus and meandered through town before it finished at City Hall. Everyone cheered the veterans as they marched along the route. Included in the parade were the Melrose Drum and Bugle Band, Foodtown, the Scouts, South Amboy Firemen, the Ancient Order of Hibernians, and many, many more.
The organizers of the events did a terrific job and it was a great day enjoyed by all.