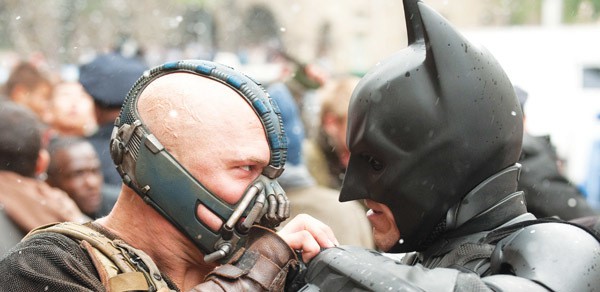 By Anton Massopust III
The greatest battle of Batman's career and a fitting end to the Dark Knight trilogy begins and ends in the new film, THE DARK KNIGHT RISES. It has been 8 years since the Joker's reign of terror, and Batman, or more to the point, Bruce Wayne, has become a recluse. Bruce is living a life of solitude in Wayne Manor, mourning his lost love and dealing with his personal pain. Alfred wishes Bruce to move on with his life, but Bruce feels that there is nothing in the outside world for him. But a new terror arises in Gotham – it is a new villain who makes the Joker look like a schoolyard bully. This new villain, Bane, seems to have come directly from the depths of hell itself, coming into Gotham to utterly destroy it. He uses a ruthless businessman, Rupert Thorne, to control Wayne enterprises and uses these resources from experimentations in clean energy to cut off Gotham from the world and create havoc. Bane uses a nuclear bomb that will detonate and wipe out the city if anyone tries to enter or escape the city. Batman confronts Bane and is severely injured in the process, winding locked up in a dark prison. Leading Batman's allies is a policeman named Blake, Commissioner Gordon, Lucius Fox, and Selena Kyle who is a mysterious Catwoman who does not know which side she is on (Batman's, Bane's, or her own).
This movie has plenty of action and adventure but is also brutal and violent. The Dark Knight has to use everything at his disposal to stop the evil of Bane. There is a great motorcycle chase and an epic battle to conclude the story. I won't tell you all the secrets for you should go and see it yourself. This is really Christian Bale's movie – he really explores both sides of the Dark Knight character, both Bruce Wayne and Batman, and gives us a deep understanding of the torment inside him. Tom Hardy plays the vengeful Bane; you hardly recognize the actor under the disguise. He is dark, mysterious, and even bigger than Batman, giving a great performance as the evil juggernaut. You can't go wrong with the supporting cast of this movie, especially with Gary Oldman as Commissioner Gordon, who is hiding secrets and tries to keep Batman's legacy alive. The great Morgan Freeman plays Lucius Fox, who is Batman's chief scientist and maintainer of all his gear. Anne Hathaway plays the mysterious Catwoman and possible love interest for Batman. Michael Caine plays the butler, Alfred Pennyworth, who is the moral center of Batman's life.
What really impressed me was the look of the film and the hammering musical score that they added to it. My only criticism is that it does drag in spots, and Bane is a little hard to understand. But if you had to wear that getup over your face, no one would understand you anyway. This film is an intense crime drama dealing with a serious terrorist threat, so this movie would probably frighten younger children – they should either watch the Batman cartoons or the old Adam West Batman shows. I will definitely be adding this to my DVD collection. It is a great conclusion to this saga and makes for a great movie night. Grade A plus, go see it!!