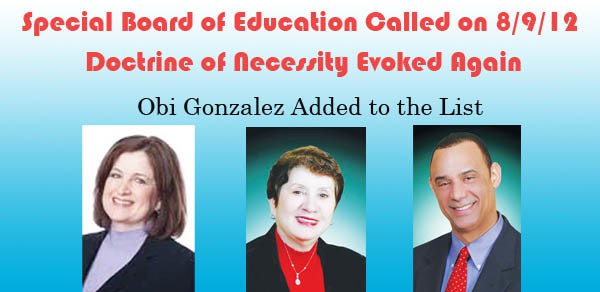 Doctrine of Necessity Evoked Again —
PERTH AMBOY  — A prepared statement was read by School Board President Sam Lebreault at the beginning of the School Board Meeting. It was the Doctrine of Necessity which has been read at previous meetings. Only this time, there was an additional name added whereas Superintendent Dr. Janine Walker Caffrey named Board Member Obdulia Gonzalez with an ethics complaint. Missing from this meeting were Board Members Kurt Rebovich, Dianne Roman and Mark Carvajal. Others not in attendance included Superintendent Caffrey, Assistant Superintendent Dr. Vivian Rodriguez, and Board Secretary Derek Jess.
It was determined by the Board Attorney that there was a quorum and the present Board Members would be allowed to do an evaluation on the Superintendent despite the ethics complaints on some of the Board Members.
Before going into closed session, the Board Attorney made the following statement. "Superintendent Caffrey through her lawyer granted permission for the Board to evaluate her in a closed session. In past meetings the Superintendent had requested that the Board evaluate her in the presence of those attending the meeting.
When the Board returned from the closed session, they did not divulge the results of the evaluation on Dr. Caffrey. They explained that they would be forwarding the information to the Superintendent and Board Attorney first.
During the public portion of the meeting, Donna Chiera, President of the American Federation of Teachers (AFT) addressed the Board with her concerns. "Problems that plagued the schools earlier in the year have not been resolved. Issues included personnel, curriculum and discipline from last year and nothing has moved forward. There are personnel issues from last year that have not been resolved and those people have no idea what their status is. 1% of bad kids are stopping 99% of those good kids from having a good education. Quantum Learning which is a day and a half of assessments of our staff, children and administration are being evaluated. We should look at system wide standards. The Federation is training on a new way of evaluation and discipline. No one is coming to us to try to fix these problems."
Board Member Obi Gonzalez (Chair of Curriculum and Personnel Departments) told Chiera, "We will try to address your concerns at our personnel meeting coming up this Monday (August 13)."