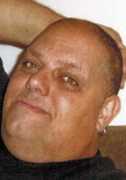 PERTH AMBOY – Viewing, Wednesday, September 5, 2012 at Mitruska Funeral Home, 531 New Brunswick Ave., Fords, from 2 to 4 p.m. and 7 to 9 p.m. Funeral Services Thursday, September 6, 2012 from 9:30 a.m. at Mitruska Funeral Home. 10 a.m. Mass at the Good Shepherd Parish/Holy Rosary Church, Florida Grove Road, Hopelawn.
Remembrance from Carolyn – The Amboy Guardian.—
Frank was a big guy. When I first met him I was very intimidated. I quickly learned that his bark was worse than his bite. Major, as I knew him was one of the first people who encouraged me when I started out with the paper. He was very protective of me and what I especially liked about Major is that he spoke his mind and always gave me constructive criticisim. Sometimes he would call me up to tell me that he has some interesting information about what was going on in Perth Amboy. His calls would be very short and he said he would get back to me. After a couple of days of him waiting to call me back, I would call him up and say, "Major, you are on my hit list. How dare you call me up and have me waiting for what you call some vital information and then I don't hear from you."
Major would reply, "I'm still working on it."
"Well, Major," all I know is when I see you again, you better have all that vital information that you promised me.
Love you, miss you, Carolyn.