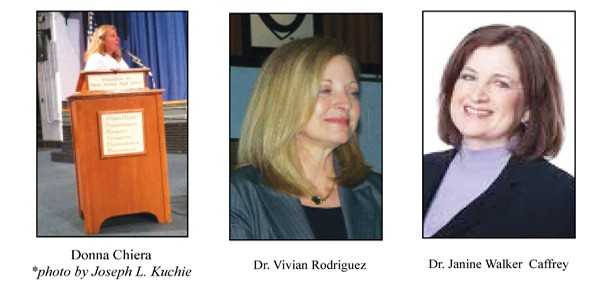 Vivian Rodriguez Becomes Superintendent
By Joseph L. Kuchie—
PERTH AMBOY — The large crowd of parents and teachers at Perth Amboy High School erupted in applause when the Perth Amboy Board of Education placed Superintendent Janine Caffrey on administrative leave last Saturday.
After an hour-long private session, the Board passed a resolution to not only place Caffrey on leave but also name Assistant Superintendent Vivian Rodriguez as active Superintendent. The board also unanimously voted to not bring Caffrey back as Superintendent once her current deal expires.
"Many of you are aware that an administrative law judge issued a decision to uphold our vote last May to place Dr. Caffrey on administrative leave," Board President Samuel Lebreault said. "That decision is under review by the Commissioner of Education, but the final ruling isn't expected until late October. Our attorneys have advised us that nothing prevents us from taking new action in the meanwhile if we think it is warranted."
Lebreault also commented on the dark times the district has undergone since the problems with Caffrey began. He believed that the Board needed to take action now in order to prevent further issues.
"This year has been a chaotic time for this board. The problems with the Superintendent have unfortunately become a matter of public record," said Lebreault. "We must take action now to avoid further turmoil as the new school year gets underway. This board remains committed to moving the district forward and will make all steps necessary."
The board also met in private session to discuss the possibility of bringing on Dr. Librera to assist them through the process of replacing Dr. Caffrey. Librera has been helping the school district fix their grading problems over the past few months and many board members believe he will help reduce the stress going forward.
"I am proposing that we engage with former Commissioner of Education Dr. William Librera as a consultant to help this board work through these issues during the transition period," Lebreault said. "He will bring experience and perspective to move toward stability."
Once the Board opened it up to the public, there were mixed comments about the current status of the district. Union president Donna Chiera was hopeful that the decision would help move the district forward.
"I'm hoping today is the new first day of the school year," Chiera said. "The people I represent want to come here everyday and teach the kids. This vote should take the indecision out of the classroom, and I believe Vivian Rodriguez is the perfect person to take us to the next step."
Some residents like Junior Iglesias were not convinced by the Board's decision, saying that it was disappointing that they were going in this direction.
"This decision is going to cost the district a lot of money, and I don't want to pay more taxes with the decision that the Board is making," Iglesias said. "I also believe William Librera is a state monitor, and it is disappointing to know that someone from the outside has to come in and tell the Board how to do their jobs. It's sad to see our district going in this direction."
The Board attorney and President Lebreault explained later that Dr. Librera was coming to Perth Amboy because they asked him to, not because the state was sending him.
"Dr. Librera will not be coming to assist us unless the Board wants him to be here," Lebreault said. "The state approached us to see if we wanted assistance, but we made it clear that we would like to do it on our own."
Dr. Caffrey was not in attendance for the special meeting, but will continue to make her annual salary until a further decision is made. Board members Dianne Roman, Kurt Rebovich, and Mark Carvajal as well as Vice President Kenneth Puccio and Board Secretary Derek Jess were also not in attendance.