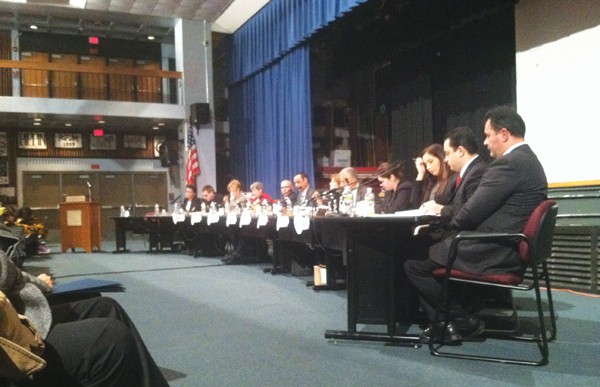 By Joseph L. Kuchie—
PERTH AMBOY — The Perth Amboy Board of Education made an attempt to approve an alternate school schedule as the city continues to recover from Hurricane Sandy.
Schools were closed for a week after the city was hit with one of the worst storms in history, causing the Board to find alternative days to reschedule classes. Superintendent Janine Caffrey originally recommended six dates: January 21 (Martin Luther King Day), February 18 (Presidents' Day), March 28 (change from half day to full day), March 29 (Good Friday, half day), June 27 and June 28.
Donna Chiera praised Superintendent Caffrey's work during the storm and was happy that she made the dates available for teachers so quickly. However, she did suggest that the board take the selection a date further to prepare for a unpredictable winter.
"We have three days to make up. We have five days for spring break and we also have Memorial Day," Chiera said. "When you consider this, I suggest you put in Memorial Day and spring break but prioritize it so people have a sense of where we are going with this. This was an unusual event and we don't know what winter is going to bring. I'm concerned that if we get hit we will be playing the guessing game."
Linda Nagy, a teacher from Richardson School, was concerned about the idea of having school on Good Friday. Although it was only scheduled as a half-day, she noted that 75-80 percent of the district is Roman Catholic and it should be considered a solemn day.
"One of those days is Good Friday. It's the most solemn day of the Roman Catholic calendar and I just ask you to reconsider it," Nagy Said. "To me, even if you did Memorial Day or the Friday from the end of spring break that would be good, I just have an issue with Good Friday and I know many students have the same denomination as me."
When the discussion was brought to the Board, the priority was to find a replacement day for Good Friday. Milady Tejada and Diane Roman brought the date up to debate, and suggested that something be done to honor the religious holiday.
"I recommend that this Board look at an alternative date for Good Friday. I think we should respect the wishes of the community," Roman said. "I've talked to the Superintendent and I believe we should eliminate that day and observe it."
Dr. Caffrey made the suggestion to replace Good Friday with Memorial Day on May 27 to work with the teachers wishes and preserve spring break. She noted that she would prioritize that day so it could be put back as a holiday if the district didn't need to use it.
"In talking and hearing Ms. Nagy's comments, It seems to me that May 27, Memorial Day, would be an alternative so we preserve spring break," Caffrey said. "By putting five days on the calendar we are preserving two snow days. If we don't need the snow days we can put May 27 date we put back into the calendar for a holiday."
However, the Board attorney warned Dr. Caffrey that there may be legal litigation that would prevent the district from having school on a Memorial Day, so she would have to look into it before officially passing the new dates. The Board tentatively approved the change, but it will be up to further discussion once the legal changes are made.
Student representative Jonathan Parris also sat with the board to discuss the recently cancelled Spirit Week. Although the hurricane forced the high school to close, the student body has changed the dates of Spirit Week and announced the dates for Homecoming 2012.
"Spirit Week was postponed because of Hurricane Sandy, but we have come up with three dates next week to replace it," Parris said. "Monday will be 'Amboy Pride', Tuesday will be 'the blackout', and Wednesday will be 'college / sports t-shirt or jersey day'. Homecoming will be held on November 20th and the Homecoming football game will be on Thanksgiving."
For more information on the school district, visit paps.net.