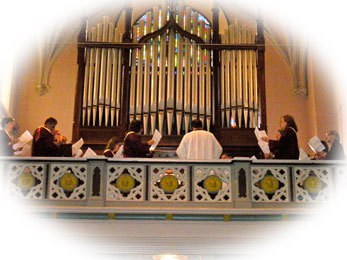 SOUTH AMBOY — Saturday, December 15, 2012 at 7:30 p.m. there will be a performance of Handel's Messiah
"It's just not Christmas for me without hearing Handel's Messiah."
"This is my 7th year in a row attending Messiah, and I'll never miss it!" Come join the rest of the South Amboy area community for the Saint Mary Chamber Orchestra and Choral Society's presentation of George Frederik Handel's timeless oratorio. Under the direction of Maestro Christopher M. C. Deibert, conductor, the Advent/Christmas portion of this work will be performed in its entirely, along with excerpts from the second and third parts.
Don't miss this delightful candlelit concert, set in beautiful Victorian-gothic architectural surroundings. This concert is guaranteed to put you in the Christmas spirit!
$15 Suggested Donation Cheerfully Accepted! DVD's of performance on sale.
The performance will be at Saint Mary Church, 256 Augusta St, South Amboy.
For more info call 732-721-0179 or 732-213-0989.