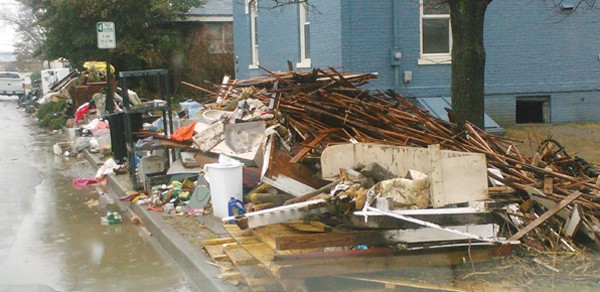 Rosewell & John Streets Photos Taken 11/27/12 & 12/2/12
SOUTH AMBOY — The Department of Public Works have made several pickups of garbage from devastation due to Hurricane Sandy. One of the hardest hit sections in South Amboy was parts of John and Rosewell Streets. As you can see in the top photo that was taken on 11/27/12 this property was inundated with garbage that was posing a health hazard to the surrounding area.
The second photo taken a few days later shows the same area cleaned up.
A resident who is on the Board of the Raritan Harbor Village Raritan Reach Association called up Councilman Mickey Gross to voice her concerns about the Rosewell/John Streets section of town. She also called the Middlesex County Health Department.
Councilman Gross called her several times and within an hour assured her that section of town would be cleaned up by Friday (11/30/12).
The one building that still has a lot of garbage in front of it is privately owned and they are being fined by the City of South Amboy. (See Photo Page 2)
The resident who contacted Councilman Gross was also told that the Church of Jesus Christ of Latter Day Saints voluntarily helped homeowners remove debris from their residences.
The numerous garbage bags were the results from garbage that was collected from contractors and the Church Members who assisted the residents in the cleanup.
The cost for the disposal will come under the FEMA grant.
*Photos (R) by Joe Bayona *Photos (L) by Joe Bayona and Paul W. Wang