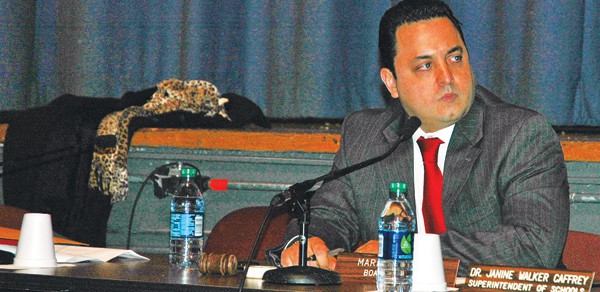 By Katherine Massopust—
PERTH AMBOY — At the 1/7/2013 Board of Education Meeting the oath of office was given to incoming BOE Members: Maria Garcia and William Ortiz and returning Board Members: Obi Gonzalez and Ken Puccio.
Mark Carvajal was nominated for President by Dianne Roman and seconded by Maria Garcia. Ken Puccio was nominated for President by Israel Varela. Puccio declined the nomination as President. The votes for Carvajal for President were: Israel Varela: No, Milady Tejada: No, Dianne Roman: Yes, Ken Puccio: Yes, William Ortiz: Yes, Anton J. Massopust: Yes, Obi Gonzalez: Yes, Maria Garcia: Yes and Mark Carvajal: Yes.
Ken Puccio was nominated as Vice-President by William Oritz and seconded by Dianne Roman. The vote was a unanimous "Yes" for Puccio to be Vice-President of the Board.
Puccio the offered some words to the Board and those in attendance, "Welcome Mr. Massopust, William and Maria to the Board. I take this oath of office very seriously. We took an oath to represent this City and to put aside personal differences. I urge us all to work together. I tell you I am aligned to no one but the people. I credit my mom – my hat is off to her and the teachers in the schools. Some of you don't like me. I don't owe my allegiance to no one."
Garcia also spoke, "I want to thank the people in the City of Perth Amboy; thank them for having the confidence in me. It is an honor and a privilege. I want to thank my husband, two daughters and my son. They guide me as a human being. I want to thank my campaign manager, Maria. She has been a ray of sunshine. I also want to thank those who support me. True friends are what is important. Perth Amboy wants the best education for our people."
She continued, "We are not here to play politics. We need to move schools forward to the future."
Garcia stated, "I came to this country when I was ten years old. I did not speak any English. I learned to speak English with a Spanish/English dictionary and from a teacher that took the time."
"We need parents, teachers and the community involved. You need an education to prosper. W need to turn around the Board, a construction of a new High School."
Obi Gonzalez offered some of her words, "This is my second term. I'm here to serve, to move toward a Board that moves together and never disregard the people of the community. We serve with our hearts. We go to the polls and speak our wishes to work for the future of the country – our children."
William Ortiz offered his words, "I'm proud to be elected to the Board of Education. I went going door to door, met parents and grandparents that shared stories. I come to represent children and parents in our district. I am not alone with those concerns. We are not as important as we think we are. There could easily be 3 persons on the Board instead of 9."
Ortiz continued, "This is an nonpartisan Board. There is no time for equivocation. We were chosen to lead. I'm a realist and I know we will not succeed with all of these kids. It's a tough job. Our job is not to run the school. I'm a parent and will serve as a parent. I have no hidden agenda; no vendettas – we should make it easier."