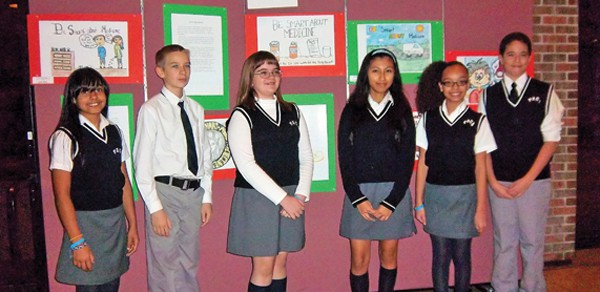 Creative Expression Contest
*Photo Courtesy of Perth Amboy Catholic School
PERTH AMBOY – On Thursday, January 17th, 2013 Six Perth Amboy Catholic School students were honored as winners in the "Be Smart about Medicine" Creative Expression Contest. The Coalition for Healthy Communities sponsored the contest as an initiative of the National Council on Alcohol and Drug Dependence of Middlesex County Inc. Middle school students from across Middlesex County participated in the third annual art and essay contest, which helps promote awareness about prescription and over the counter drugs. A panel of judges reviewed and selected the first, second and third place winners. The awards were presented by Ms. Linda Surks of NCADD and Mr. Paul Grzella, General manager/Editor of The Home News Tribune, Courier News and mycentraljersey.com.
The winners from Perth Amboy Catholic School were: Tomasz Kasztelan – 8th Grade – 1st Place, Kenny Ortiz – 7th Grade – 1st Place, Katherine Zevallos – 7th Grade – 2nd Place, Alyssa Sierra – 6th Grade – 1st Place, Trisha Ponik – 6th Grade – 2nd Place, Kiana Abreu – 6th Grade – 3rd Place., The students received Visa Gold Cards: 1st Place $100, 2nd Place $50 and 3rd Place $25 and recognition certificates for their efforts.
Shown is a photo of the winners. Pictured (L to R) Kiana Abreu, Tomasz Kasztelan, Trisha Ponik, Katherine Zevallos, Alyssa Sierra and Kenny Ortiz. The artwork was sent in by their art teacher Rose Lavin Pennyfeather.
Press Release—